30km/h speed limit - consultation details and key takeaways from our Q&A event with AT
This week we hosted a breakfast Q&A with Auckland Transport (AT) Chief Executive Shane Ellison and Executive GM Safety Bryan Sherritt to discuss the proposed 30km speed limit for the city centre.
We asked Auckland Transport to share their views on why they believe this change is necessary for Auckland, what benefits it would bring to the city centre and what the implications may be. You can download Shane's presentation here or watch a recording of the event here.
There is evidence that slower speeds deliver a significantly safer environment for people, and that this will be good for the city centre and good for business. It also starts to 'future proof' what our city centre needs to be given the growth it is experiencing, in terms of both residents and workers. We'd like to know what your views are about the proposal - there's a link to a quick survey below. We'd also encourage you to give feedback direct to Auckland Transport.
To put it all in context, this map outlines what speeds are being proposed for what streets.
Tell us what you think
We'd like to know where city centre businesses stand on this proposal. Please take a minute to tell us what you think about the proposed changes by completing this quick survey.
Public consultation
Auckland Transport is asking for public feedback on the proposed changes until the end of March. Find out more on the AT website.
Q&A with Auckland Transport
There was a great turnout to our Q&A event with Shane Ellison - which was also live streamed on AT's Facebook page. We have summarised some of the main questions that came up, and AT's responses, below. We have also asked AT for further info based on the discussions and will update this page accordingly.
How would reducing the speed limit to 30km make the city centre safer?
Changing the speed limit from 50km/h to 30km/h reduces the chance of a person walking being killed or seriously injured from 80% down to 10% (see Image A). Here are some other stats which put that in perspective:
In 2017, 64 people died and 749 were seriously injured on Auckland roads - of those killed, 44% (28) were speed related deaths.
4% of these deaths happened in the city centre - a figure that is particularly significant when you consider that the city centre only accounts for 0.6% of Auckland's roads
From 2012 - 2017 there were 3040 recorded crashes in the city centre with 686 injuries and 105 deaths and serious injuries
With the highest population density in New Zealand, the city centre is one of the areas where setting safe, appropriate speed limits can make the biggest difference. (A recent report from the City Centre Residents Group put the city centre's population density at approximately 12,000 people per Km² - with the densest area, Hobson Ridge Central, having 91,000 per Km².)
There are already good examples from within the city centre, New Zealand and around the world which prove that setting safe speed limits makes streets safer and saves lives. For example, following the reduction of the speed limit on Queen Street to 30km/h in 2008, there was a 40% reduction in crash rates and a 36% reduction in deaths and serious injuries when comparing the 10 years before the reduction to the 10 years after.
Learn more about the correlation between speed and safety by reading Auckland Transport's Myths and misconceptions about speed.
How will this affect businesses?
Not only would reducing the speed limit make city centre roads safer, it would also make the streets nicer, more people-friendly places to be. Safe speeds get more people walking and cycling. As well as that being good for health, research shows that this is also good for businesses. When people feel safer on roads and footpaths, they use them more - which has a positive flow on effect for retail and hospitality. Find out more about how a walkable city centre is good for the economy.
A low speed makes city centre streets safer, but would it make it harder for vehicles to access and move about the city?
Reducing the speed limit would actually improve both safety and vehicle movement. It encourages more people to walk, cycle or use public transport, making roads less congested and traffic easier to manage. See this image or refer to the following question to see the effect on traffic.
How would slowing down the speed limit to 30km impact on journey times for drivers in the city centre?
There is a common misconception that reducing the speed limit would lead to traffic backlogs but a reduction in speed limits would actually have a negligible effect on journey times in the city centre. For example, moving from a 50km speed limit to a 30km speed limit would, on average, increase journey times by 48 seconds/km. This means that if you were driving the 950m stretch along Nelson Street in order to get from Union Street to Fanshawe Street, your added journey time would be less than 48 seconds. See image B below.
If the average speed in the city centre is already 19km, what's the issue? Can't we just use red light cameras to catch people speeding?
Evidence shows that people are not self-regulating their speed. Deaths and serious injuries are still occurring. One of the main reasons is because, even with red light cameras, there is still a problem with people speeding up in between lights to reach 50km and then having to brake again quickly for the next set of lights - which are generally placed directly next to or in front of pedestrian crossings.
A small increase or decrease in vehicle speed has an immediate and direct impact on braking or stopping distance. See here for an example or see Image C below.
What about just introducing a slower speed limit during business hours or during the day?
There are still high numbers of vulnerable people out on city centre streets at night, especially given the high population density, so reducing the speed to 30kph is even more important after hours.
For more information on the proposed speed limit changes, see Auckland Transport's website.
You can also watch this video of Shane Ellison talking about the proposed changes, with comment from road safety charity Brake.
IMAGE A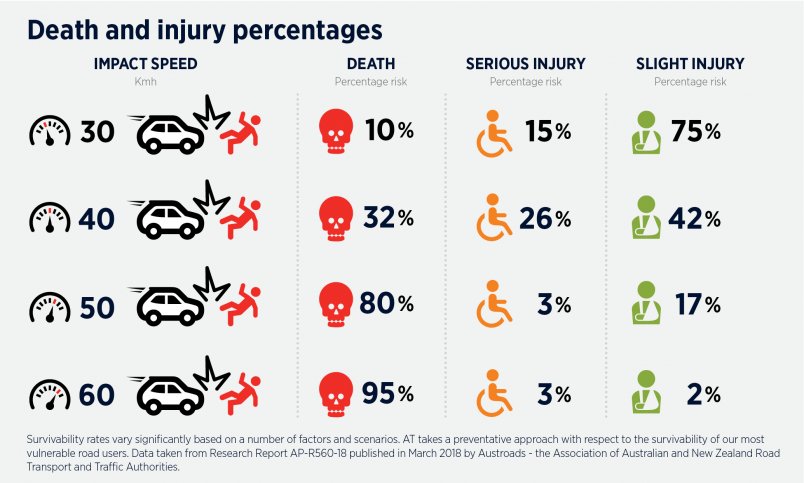 IMAGE B
IMAGE C