City centre residents - where do they live?
To paint a picture of where people are living in the city centre, the City Centre Residents Group (CCRG) has created an overview of the current residential population split by SA2 (Statistical Area 2), using Statistics NZ data.
What is an SA2?
Statistics NZ defines SA2s as "communities that interact together socially and economically". An SA2 may, for example, have:
a shared road network
shared community facilities
shared historical or social links
socio-economic similarity
The city centre's SA2s - where is everyone living?
The city centre has 16 distinct SA2s (see map below).
Looking at data gathered during the last census - as well as annual estimates made by Statistics NZ - the CCRG report shows that the most densely populated areas are in and around Symonds Street, Anzac Avenue and the Hobson Ridges.
The maps below depict the city centre's SA2s and the population density of each SA2.
Other key insights
The CCRG also offers other key insights into the city centre population including:
The total population is estimated at up to 57,000 (end of 2018)
The population is young - 58% are aged 15-29 and 70% aged between 15-35
The city centre represents New Zealand's highest population density at approximately 12,000 people per Km². The densest SA2 (Hobson Ridge Central) has 91,000 per Km².
The city centre is one of the most multicultural residential neighbourhoods in New Zealand. More than half of all residents in the city centre identify with an Asian ethnicity and around 40% speak English as a second language.
For more information about city centre residents and population information visit the CCRG website.
1. Map of city centre SA2s or key communities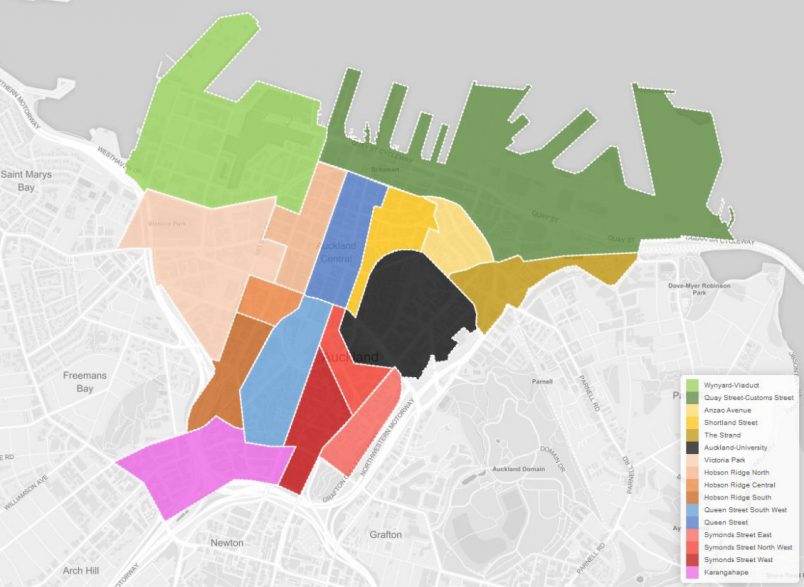 2. Map depicting the population of each SA2, with an evenly spread gradient