Top Māori fashion designers launch Britomart pop-up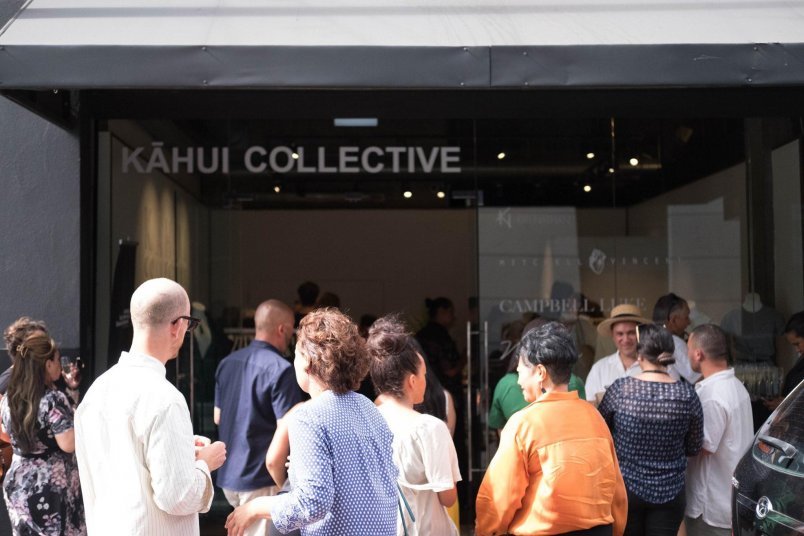 We're thrilled to welcome the Kahui Collective pop-up store to the city centre.
The new pop-up opened this week on Tyler Street, Britomart and showcases designs by six top Māori fashion labels. As the first store of its kind, dedicated solely to high-end Māori fashion, it is a very special addition to the city centre's diverse retail offer.
Leading the project is Kiri Nathan, whose incredible woven work you might have seen recently on the 2020 Oscars red carpet, worn by Chelsea Winstanley, Taika Waititi's wife and co-producer.
Britomart Group met with Kiri to talk about the inspiration behind the Kāhui Collective, the challenges of getting Māori fashion labels taken seriously by the industry, and why she's hoping the pop-up will bring a whole new perspective on Māori fashion to visitors from New Zealand and abroad. Read their conversation here.
Speaking separately to Te Ao Maori News, Kiri said the Britomart location is the best location for a high-end Māori fashion store.
"This is the best area for us to pop up in and test the market. This is where most of our tourism foot traffic comes with the cruise liners."
Throughout the course of the pop-up there will also be a series of events, panel talks and meet-the-designer days.
The pop-up store will be here until 15 March. We highly recommend popping down to Tyler Street, Britomart to have a look and support this wonderful collaboration between our top Maori designers - and maybe even find a new item for your wardrobe.