Public Safety and Nuisance Bylaw & Begging
On the 26 May, the new Auckland Council and Auckland Transport Public Safety & Nuisance Bylaw will be enforceable. The bylaw addresses issues relating to public safety and nuisance, and inappropriate behaviour in public places to ensure that Aucklanders and visitors can freely enjoy the city's public places and transport. These issues include the use of mind altering substances, 'window washing', along with begging, in a manner that may intimidate or cause a nuisance to any person and that poses a safety risk to the wider public or interferes with residents and visitors ability to enjoy shopping, dining and other activities in public areas.
One of the main objectives of the Bylaw is to protect the public from nuisance, promote and maintain public safety and minimise the potential for offensive behaviour in public places. We have pulled out key excerpts from the Bylaw that present the most relevance to the city centre: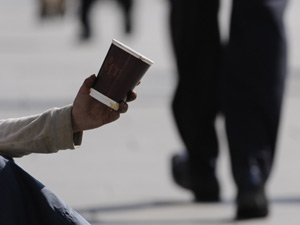 Nuisances, safety and behaviour in any public place. A person must not use a public place to:
a) wilfully obstruct, disturb or interfere with any other person in their use or enjoyment of that public place;
b) create a nuisance through the use or playing of any instrument (musical or otherwise), any type of public address system or any type of amplified sound system, or from making any unreasonable sound or noise;
c) use any material or thing (including a vehicle, bicycle, motorised scooter, model aircraft, skateboard, roller skates or roller blades or similar object) recklessly or in a manner which may intimidate, be dangerous, be injurious to or cause a nuisance to any person;
d) install or maintain a fence (including a razor-wire and electric fence) in a manner that may cause an injury or nuisance to any person;
e) consume, inject or inhale or distribute or offer for sale any mind altering substance
f) beg, in a manner that may intimidate or cause a nuisance to any person
g) wash or offer to wash a vehicle or any part thereof, in a manner that may be unsafe or intimidate or cause a nuisance to any person, or cause an obstruction to traffic
Additionally there are clauses around 'damage in any public place', 'obstructions in any public place', 'controls for parks and beaches', and 'street naming and numbering on buildings'.
How is the Bylaw enforced?
In the City Centre, the City Watch team are warranted to enforce the bylaw's rules. The approach will be 'graduated enforcement', which involves the initial use of advice, guidance, information and on-going assessment of compliance, with significant enforcement the final option. Referrals to the New Beginnings court, where relevant, is also part of the enforcement process.
What does this mean for businesses?
If the activity is legal, and can be considered a nuisance under the definition of the bylaw, businesses can contact the Auckland Council call centre on 09 301 0101. The call centre will log the call. It is likely that they will dispatch one of the City Watch security team to follow up on the issue.
If the activity is 'illegal' (i.e. the use of drugs or alcohol), or is of an urgent criminal nature, businesses need to call the NZ Police on 111.
What the Bylaw doesn't do: Homelessness
Whilst the bylaw looks to ensure that begging is not carried out in a way that causes a public nuisance it does not ban begging, nor does it seek to address the issue of homelessness in the city. There is an inter-agency regional goal in Auckland that seeks to end rough sleeping in Auckland, and until that happens we will likely to continue to have a homeless community in and around the City Centre. The Auckland City Mission is a key partner in this. They have an outreach team who walk the inner city streets daily - in the early hours of the morning and late in the evening, making contact with those sleeping rough. They engage newcomers, letting them know where and how to access support, check on those known to be especially vulnerable, and assist wherever they can. In addition they collect important statistical information to advise policy and inter-agency development. They also work in partnership with NZ Police, Council and City Watch team on this.
What is the best way to help homeless in the city centre? We would encourage anyone in the city centre who wish to help the homeless community to consider the approach of donating to charities involved in supporting the homeless rather than beggars themselves. There is much evidence that proves that providing money to beggars often means that the money is used for activities (such as drugs and alcohol) that bring greater harm than good to this community.
Part of the enforcement process for the Bylaw includes referrals to the new beginnings court. The court was established to respond to recidivist low-level public offending by homeless people in Central Auckland, understanding that the cycle of homelessness is linked to the cycle of offending. The court is designed to address the underlying issues associated with offending and provides an alternative to the traditional court system.
The court is facilitated by a Judge, with the support of a number of agencies who design a plan for the individual that aims to get them out of their current situation. There have been good results from the scheme since it began in 2010.

Frequently Asked Questions
For more information:
To read the Bylaw in detail visit the Auckland Council website here.
Have any questions on the bylaw? Contact us on info@hotcity.co.nz or 09 379 8000.