Changing gears – the growth of cycling in the city centre
At the Mason Bros. building in Wynyard Quarter, 16% of workers get there by cycling, eight times as many as Aucklanders on average1. Only 20% get there by car, less than half the Auckland average.
This is both a gold star achievement in terms of the building's 5 Green Star rating and the neighbourhood-wide long-term goal to have 70% of people coming to the area by walking, cycling, public transport and ride share and more broadly, an illustration of how Aucklanders' transport habits are changing.
Cycling is definitely on the up - research by AT in 20172 showed that over a third of Auckland's population cycles at least sometimes, up 75% from three years earlier. Last year, 16% of these people used their bike to go to/from work – which is about 86,000 people.
There are all kinds of reasons for these changes. More cycle ways mean riding a bike is more convenient and efficient (and there are more to come – including one on Victoria Street), more separated paths make riding a bike safer and e-bikes make it seem less like hard work. Biking is a good way to avoid congestion on the roads while becoming happier, healthier and helping to save the planet.
More people cycling brings all kinds of positive impacts for the city and businesses too – fewer cars on the roads means less congestion and improved access for services and people who want or need to drive and the landlords and businesses we've spoken to all talk about the benefits for staff wellbeing.
Andrew Stringer, Senior Managing Director for CBRE New Zealand says the number of his staff who bike to work has increased and he's noticed an impact on productivity.
"It's enhanced fundamentally because people are spending less time getting somewhere." - Andrew Stringer, CBRE
Reports from Colliers in Australia show that the importance tenants place on end of trip facilities like cycle parking and showers compared to car parking has increased over the past decade, with end of trip facilities "considered more important than car parking for some time now."3
Workplaces and landlords coming to the bike party
"Facilities are critical to attraction and retention of talent" - Alain McKinney, Precinct Properties
When the Mason Bros. building was refurbished recently, Precinct installed parking facilities for 30 bikes and 0 cars. Alain McKinney, Precinct Properties' Senior Development Manager for Wynyard Quarter, says that their tenants in the building, including Mott McDonald and Warren and Mahoney, are committed to the sustainable vision for the area and putting it into practice by walking and cycling to work.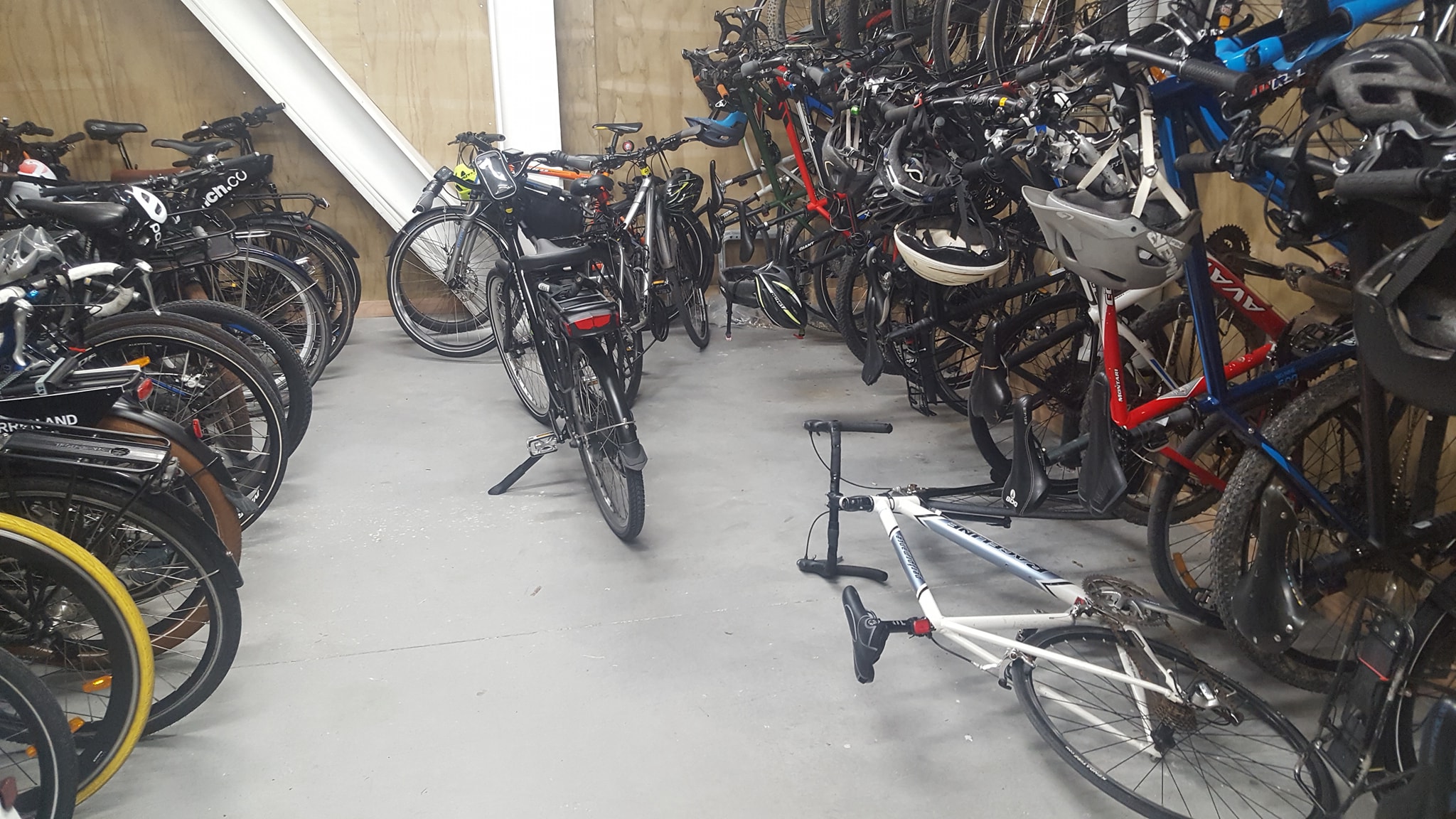 Fonterra is another Wynyard Quarter business providing exemplary facilities, with space for 100 bikes, lockers and changing rooms with all the trimmings. They also participate in a bike-share rental scheme with neighbouring buildings where staff can cycle free for the first hour. Anita Potgieter, Fonterra's Manager Global Facilities & Ways of Working says that initiatives like these are an important part of their global programme of employee wellbeing.
When Commercial Bay opens next year, there will be 230 cycle parks and 39 showers for the use of workers, as well as a towel service, hair dryers and straighteners. Anthony Randell, Development Manager for Commercial Bay says they're responding to overwhelming feedback from tenants that community and healthy lifestyle are important to them. "High quality facilities are essential to support wellness initiatives, attract and retain the best talent and support flexible ways of working. Some ideas that we are considering to encourage active commutes and staff engagement might be cycling groups, running clubs or bike maintenance workshops."
Want to join the pedal revolution?
If you want to find safe and convenient cycle routes for getting to and from work, check out AT's map resources.
AT can also help you produce a workplace travel plan. These plans can give greater choice for employees' journeys to work, better service for clients and visitors, and more effective management of business travel and freight.
If you think your area is crying out for some public bike parking facilities, check out Bikes Welcome, who are on a mission to get great bike parking everywhere and encourage more people to ride to more places. They can help you ask Auckland Transport to look at installing cycle parking near you.
Nice rack* – a peek at some city centre facilities
*Credit for pun, and for asking people who work in the city to share pictures of their end of trip facilities, to Bike Auckland.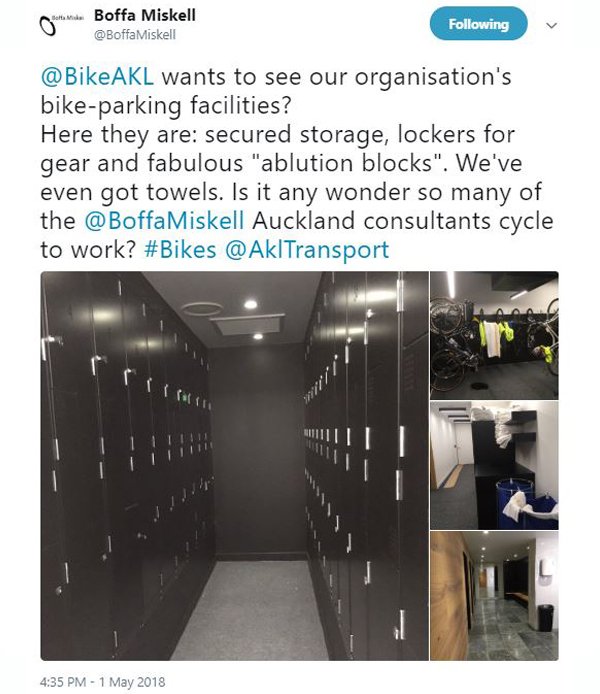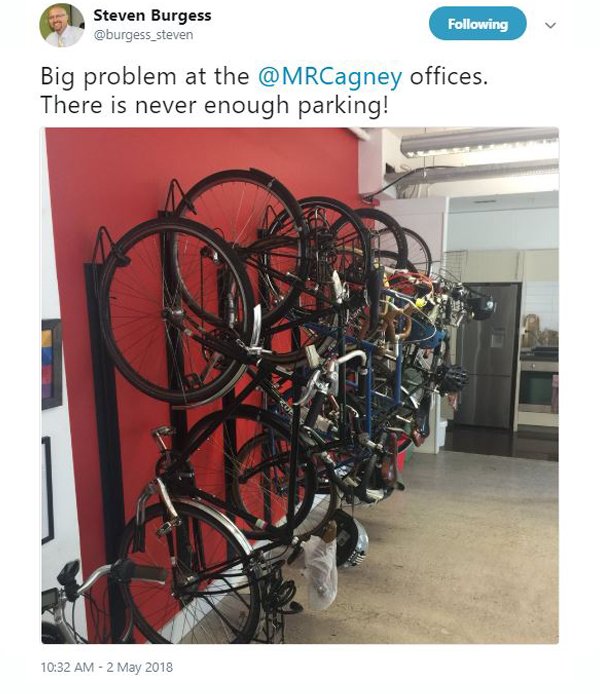 1. 2013 New Zealand Census (Auckland CBD figures)
2. Measuring and growing active modes of transport in Auckland, Auckland Transport, June 2017
3. CBD Office Research and Forecast Report, Second Half 2015, Colliers Australia