Emirates Team New Zealand Welcome Home Parade
New Zealand Welcome Home Parade
Thursday 6 July 2017
Auckland City Centre & Viaduct Harbour, 12.30pm – 4pm
Auckland will host Emirates Team New Zealand Welcome Home Parade on Thursday, 6 July.
The parade will start on Queen St, before Emirates Team New Zealand make their way to an on-water parade starting in the Viaduct Harbour, giving spectators an opportunity to cheer on the team along land and water components of the parade.
The road parade route is:
commencing at the corner of Wakefield Street and Queen Street at 12.30pm
travelling down Queen Street, turning right into Customs Street East
from Customs Street East, turning left into Gore Street
from Gore Street, turning left onto Quay Street to the Princes Wharf/Eastern Viaduct intersection.
Emirates Team New Zealand will then take to the water from the Viaduct Basin for a sail past, giving viewers a unique vantage point from which to welcome the team home.
The on-water parade is:
around the Viaduct Basin
past the Viaduct Events Centre to North Wharf
back to the New Zealand Maritime Museum and around Princes Wharf
around Queens Wharf, where the sail past finishes.
The parade route and recommended viewing points are included in the below image. The parade route and details of the event are here. This will be updated with further information in the lead up to the parade.
Road closures: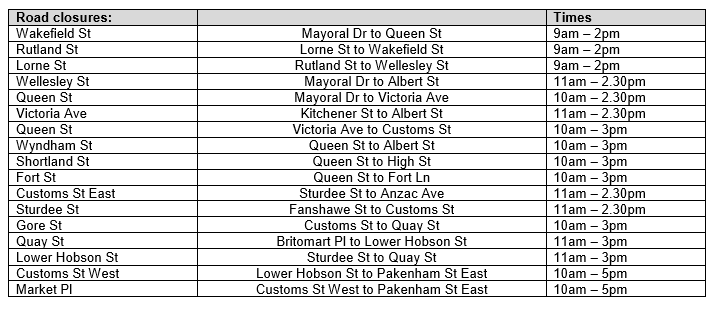 Event Management
Auckland Tourism, Events & Economic Development (ATEED) is working with Auckland Council, Auckland Transport, Viaduct Harbour Holdings, Panuku Development Auckland and other city and national agencies to ensure this event is managed in a safe and professional manner. ATEED is also working closing with Auckland Transport to organise additional public transport services and encourage people to plan their travel using active and public transport where possible.
We acknowledge that Auckland hosting events like this simply isn't possible without the goodwill of the surrounding landowners, businesses and residents, and we thank you in advance for your support and cooperation in making this a successful event for the region. We apologise for any inconvenience these restrictions may cause.
If you require further information please contact myself or the Event Operations Team at Auckland Tourism, Events and Economic Development (ATEED) on (09) 301 0101 or email majorevents@aucklandnz.com.