Lower Queen Plaza open to people and businesses
Lower Queen Plaza has been transformed into an attractive place to meet and gather. International visitors and downtown commuters are now greeted with a colourful environment, an inviting lawn, picnic tables, seating, bike racks and activations. But it's at midday when this area really bustles with activity.
City centre businesses are taking part in "Lunch on the Lawn" where they can sell their products at lunch time. "Lunch on the Lawn" will run on Wednesdays and Fridays and eateries and retailers are welcome to take part to promote their business. Email lowerqueenplaza@gmail.com to send your expression of interest.
Every Thursday afternoon, a free "Silent Disco" will be available where visitors can listen to music on wireless headphones provided by a DJ onsite.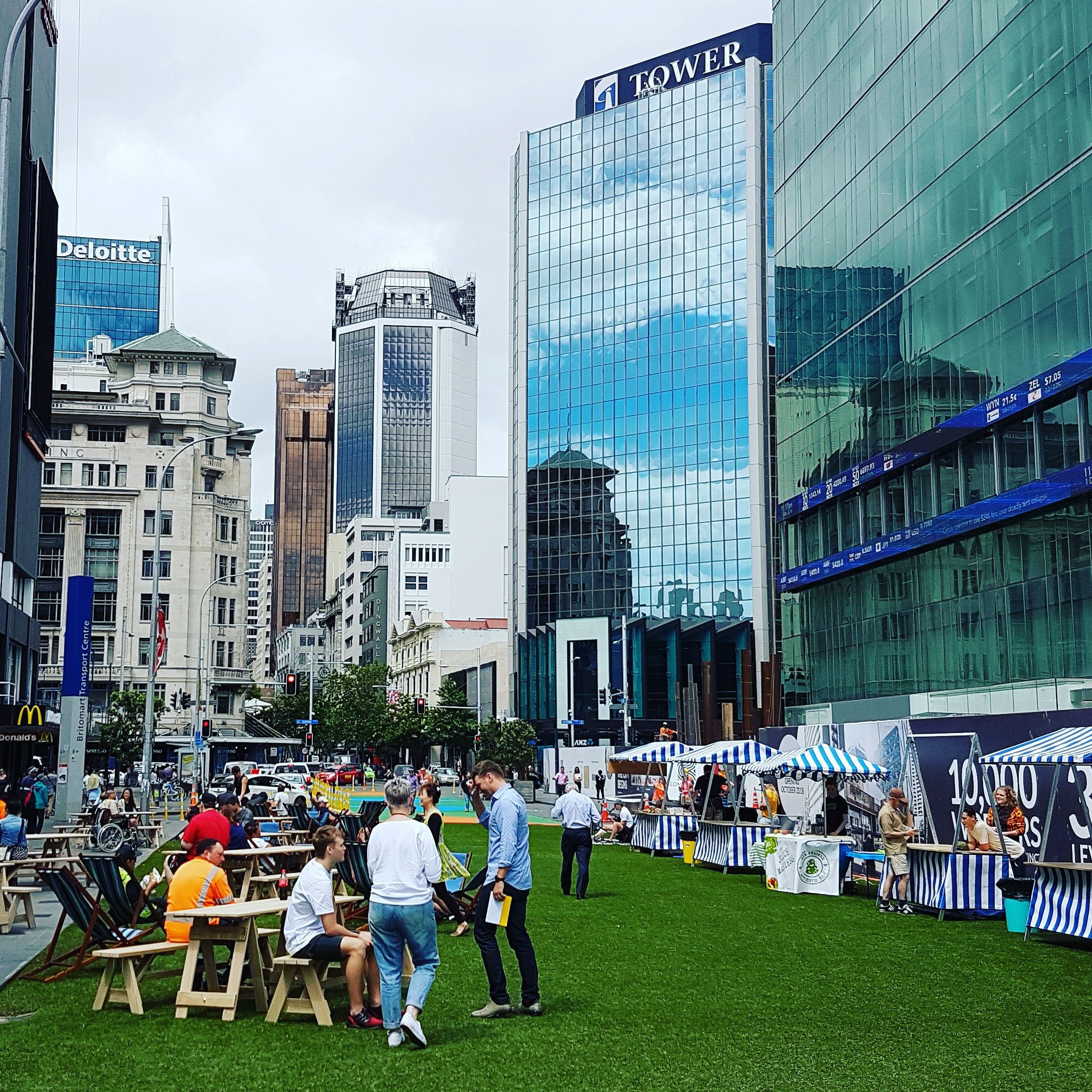 Above: "Lunch on the Lawn" at Lower Queen Plaza.
The temporary activation is an example of Auckland Council, Auckland Transport and Heart of the City working together to provide opportunities for nearby businesses during a time of change.
The Lower Queen Plaza activation will end on 1 May 2017, after which private and public works in the area will go full steam ahead.
Here's what to expect in Lower Queen Plaza in the coming months and years*:
Early January 2017 – Britomart station entrance relocated
Late January 2017 – Colourful surface treatment on the intersection of Lower Queen Plaza and Quay Street completed
Late January 2017 – Utility works on Lower Queen Plaza near Tyler Street completed
1 May 2017 – Lower Queen Plaza activation ends
2018 – Commercial Bay retail space completed
2019 – Commercial Bay office space completed
Lower Queen Plaza is your public space. If you want to book it for an event, click here to contact Auckland Council.
*Indicative dates only. For more information about the construction works in this area, contact:
Precinct Properties (Commercial Bay project) - 0800 400 599
Auckland Transport (CRL project) - 355 3553