New pictures of the Lower Queen Street public square
New pictures have come out of City Rail Link HQ showing what the new public square at the bottom of Queen Street will look like when it opens in a few years' time.
If you look closely, you'll see the designs tell stories about Mana Whenua and the cultural and environmental heritage of the area. They acknowledge the meeting of two waterways – the Waitematā harbour and the Waihorotiu stream that runs beneath the Queen Street valley – and incorporate details like the cloak-like pattern in the paving of the Ātea – the open area between the entrances of the train station and Commercial Bay.
The square will wear a number of hats – it'll be a place for people to spend time and meet for celebrations, ceremonies and demonstrations, an arrival space for people getting off a train, ferry or bus, it'll host events - you can imagine what a marathon finish line or pōwhiri might look like in the picture below - and tens of thousands of people will walk through it every day.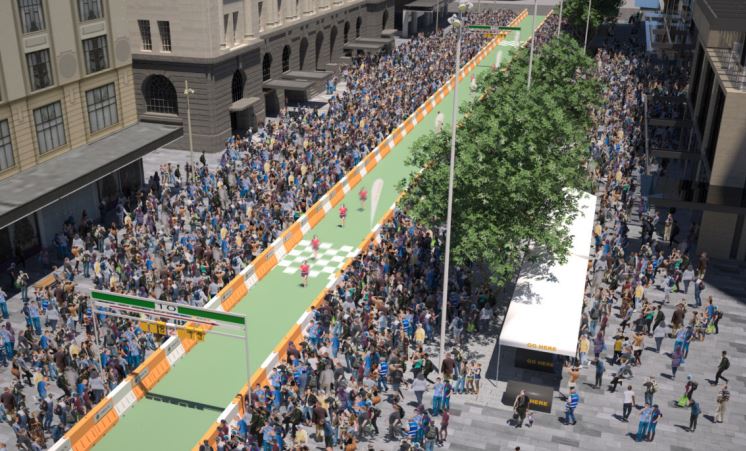 Once the planned downtown and waterfront transformation programmes are complete in a few years' time, the lower Queen Street square will be at the heart of a number of public spaces within just a few blocks in the downtown area. People will have their choice of open spaces to spend time with Quay Street, the Ferry Basin and Admiralty Basin (east of Queen's Wharf), Takutai Square and Queens Wharf.
As well as being an important space for people, the square will have a benefit to business and the economy. People will be attracted to the area, and they'll want to spend time there, which means spending at retail and hospitality businesses in the area. City workers will also benefit from having a place to relax and get fresh air.
The square is scheduled to open in 2020, with the main entrance to Britomart Train Station from Queen Street reopening at the same time.
If you'd like to see more design images and look at the full Design Urban Realm Package for the area developed for City Rail Link, see the CRL website.