We're lighting up Queen Street
Our CEO Viv talks about the lights and our plan to evolve the city centre night time experience.
Queen Street is a premier location in Auckland's city centre and we're about to enhance its vibrancy and link it up with other feature lighting to add to the night-time atmosphere and visitor experience.
Last week works began to upgrade the up-lights for the trees on Queen Street from Customs Street up to Victoria Street including Vulcan Lane, in partnership with Vector and Auckland Council.
The LED lights will be able to subtly transition between colours - they will be programmable in keeping with special occasions like Christmas or specific events, and can link up with the Vector Lights on the Harbour Bridge.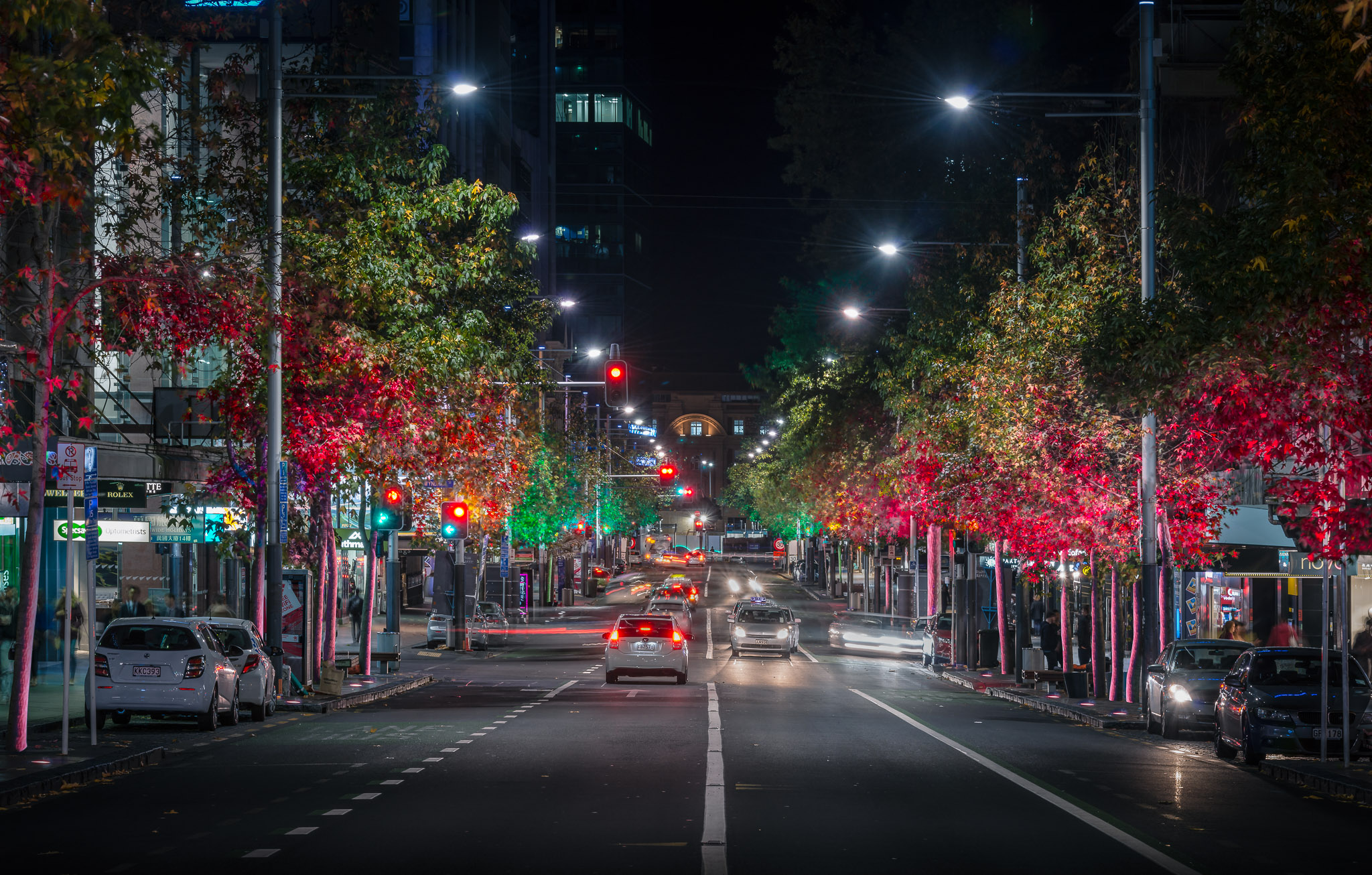 The importance of the evening and night-time economy for successful cities has been recognised around the world in recent years, and things like lighting and events can help to support the growth of these economies.
There are already some great reasons to visit the city centre in the evening, and 25% of the total numbers of pedestrians are in the city between 6pm and 6am at night. But there are opportunities to grow these numbers - by enhancing the lighting in Queen Street, as we've seen with the Vector Lights on the Harbour Bridge and other night time events, we can create a unique and memorable experience, and give more reasons to visit.
Queen Street is one of the most significant shopping destinations in the country with high-end international luxury brands, wonderful heritage buildings, iconic department stores and arcades, and a number of New Zealand's top firms. Many years of memories have been made here - wartime welcome home parades, sporting parades, university capping parades and it's a place for civic participation and demonstration. It's important to us that Queen Street is always top of mind as a place to visit in the city centre.
A key connector between the city's waterfront up to the arts quarter and beyond, the number of pedestrians on Queen Street has doubled since 2010. On an annual basis nearly 10,000,000 people traverse the street. It also accounts for almost a third of all consumer spending in the city centre.
The Queen Street lighting will complement other public and private developments underway in the Queen Street area. This includes the Commercial Bay development, Queen's Rise, new public spaces in lower Queen Street, the Quay Street area and Britomart, in and around Aotea Square and of course the City Rail Link, which will bring thousands more people into the Queen Street area every day.
These developments will all play a part in enhancing the area's night-time experience, too.
With developments like Commercial Bay planning to extend their retail hours into the evening like a number of stores already in and around Queen Street, paired with the city centre's strong and growing dining, arts and entertainment offering, the night-time buzz here is really set to move to the next level.
The cost of the 10-year lighting programme is $880k which has funding and in-kind contributions from ourselves, the City Centre Targeted Rate and Vector. The lights will be owned and maintained by Auckland Transport.
Queen Street lights upgrade works information
New and/or upgraded lights will be installed under all trees between Customs Street and Victoria Street including Vulcan Lane
Minimising the impact for businesses and pedestrians is a key priority for us, with access to footpaths and all shops/businesses maintained at all times
Works began on 9 July and are expected to take 9 weeks so will be completed in mid-September
9 July – to est. mid-August: work on the east side of Queen Street – works begin at Customs Street, moving up towards Victoria Street
Est. mid-August to mid-September: work on the west side of Queen Street - works begin at Victoria Street, moving down towards Customs Street
Work will take place tree by tree so there will be limited work sites open at any one time, reducing the impact to the surrounding environment
Barriers will be used to fence off the work sites and make them safe
For more information
If there's anything else you'd like to know about the lights or the works and how they may affect your business or the area surrounding you, email Micaela Daniel or call her in the office on (09) 379 8000.