American Express Restaurant Month | Chef Dining Series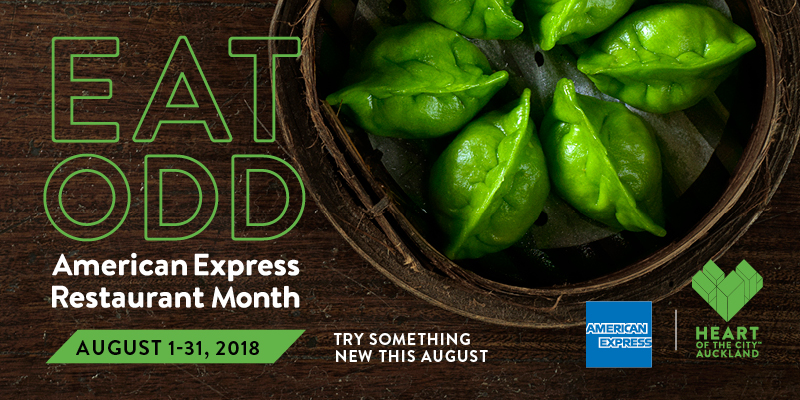 Enjoy a taste of international culinary genius this August in the heart of the city.
American Express Restaurant Month returns to the city centre this August for 31 days of extraordinary dining events and special month-long menus set to tantalise any food enthusiast.
For the last 8 years, Aucklanders and visitors have enjoyed celebrating this delectable culinary month and 2018 will not disappoint.
Viv Beck, CEO of Heart of the City, is passionate about the hugely successful annual event that this has become since it began (in 2011 with 60 restaurants, now more than 100).
"This year we have a superb line-up of international chefs cooking sensational banquets alongside some of our best local talent. There is undoubtedly amazing expertise around the world, but we also have extraordinary skills right here in the heart of the city. These special dining events create an opportunity for Aucklanders to experience world-class food and culinary genius on their very doorstep", she says.
The Chef Dining Series cements its place as a feature of the American Express Restaurant Month calendar and takes place each week during August (Wednesday or Thursday) providing the perfect mid-week dining highlight.
This year's series features chefs journeying from San Francisco, Sydney, and Singapore who are teaming up with a number of the city centre's favourite chefs to provide multi coursed celebratory menus for one night only.
Kicking the month off is A Taste of The Sugar Club – 1 August 2018
The "busiest man in food" and internationally acclaimed Chef Peter Gordon, is celebrating The Sugar Club's 5th birthday by bringing together five talented chefs that have played a crucial part in the success of this iconic venue over the last 32 years. The dinner will feature five courses, each inspired by the chef's time at The Sugar Club - something they remember about the restaurant or something they wish they'd put on the menu, with each course paired with the perfect wine match.
Do not miss some of the country's top culinary creatives cooking together for one-night only showcasing the talent that has given The Sugar Club its legendary status.
Choose also from this delicious line-up:
A Taste of Wagyu at MASU – 9 August 2018
Join Roman Petry, chef of Roka Akor San Francisco, and Nic Watt executive chef MASU, to discover the world of Wagyu. At Roka Akor San Francisco, Petry presents a distinct take on modern Japanese robata cuisine and the restaurant holds the prestige of being one of only 28 USA certified restaurants to serve truly authentic Kobe Wagyu beef. This one-off event will provide a collaborative five-course dinner each matched perfectly with wine and will impress anyone who has a love of beautifully crafted and prepared Japanese food and the Rolls Royce of beef.
A Taste of Automata at Culprit – 15 & 16 August 2018
The Weekend Australian Magazine's 2016 hottest chef, Clayton Wells, is coming to Auckland for one wonderful night. Wells combines the fine dining style of food he likes to cook with and the casual restaurant feel that he enjoys eating in to create his dynamic menus. Entering the Culprit trenches, he will work together with Chef Kyle Street and Jordan MacDonald to design and deliver an Automata 5-course specialty. This is your chance to experience one of the most exciting chefs in Australia right now at one of the hippest restaurants in Auckland.
A Taste of Jaan at Clooney – 22 August 2018
"Simple yet complex" is how Chef Kirk Westaway of the Michelin-starred Jaan in Singapore describes his cuisine. Others have described it as "technically challenging yet beautifully harmonious. " Kirk is set to join 3-hatted Clooney's new chef, Nobu Lee, for a night of ultimate fine dining using the best available ingredients and creating culinary magic through preparation and presentation.
A Taste of Aria at Euro – 29 August 2018
For this one special night, join Gareth Stewart, the team at Euro and visiting Head Chef Joel Bickford, of legendary Sydney waterside restaurant Aria, to celebrate our incredible fine natural bounty. With Joel's strong connection with nature and his 20 years plus experience in restaurant kitchens, he will be creating simple yet refined food that will suit and celebrate our amazing fresh and seasonal produce. This dinner is bound to be an extraordinary feast designed by Mother Nature herself, with Joel bringing a taste of Aria to Auckland's waterfront.
So, whether you are looking to step out of your comfort zone to test new and different dishes and chefs or, you are just looking for a mouth-wateringly good deal from your favourite restaurant – head to www.heartofthecity.co.nz for all the details.
(ENDS)
For more information or to arrange an interview with Heart of the City or a visiting chef, please contact:
Rebecca Smith | Eleven PR
E: rebecca.smith@elevenpr.co.nz
M: 021 632 671
Notes to editor:
Heart of the City is Auckland's city centre business association, which champions a successful centre for businesses and a vibrant place to live, work and visit.
Lemongrass Productions Limited is the Official Event Managers of American Express Restaurant Month.
The event is proudly supported by headline sponsor American Express plus S. Pellegrino & Acqua Panna, Negociants NZ, and Church Road.