10-Year Budget, The Auckland Plan, Waste Management
Our submission to Auckland Council's 10-Year budget, The Auckland Plan and Waste Management and Minimisation Plan included the key points:
Funding transport - support for the regional fuel tax, but as an interim step to other initiatives that better manage demand and raise funding equitably
City centre transformation - support ongoing investment in the city centre at an increased level to support its growth and success, including an extension of the city centre targeted rate to cover the full 10-year programme.
Arts and culture - support our world class Art Gallery and our built heritage to enrich the city's cultural experiences for Aucklanders and visitors.
Rates - encourage a rating policy that can bridge the gap of years of under investment, and that it can encourage and not inhibit business growth and much needed private sector development.
Homelessness - Invest to support the challenges associated with this growth and do more to achieve greater social inclusion in our city. Request to ensure there is adequate funding to end homelessness in the city centre before it becomes an even bigger issue.
Waste - For the city centre to become an exemplar of zero waste through collaboration with council and business.
Related documents: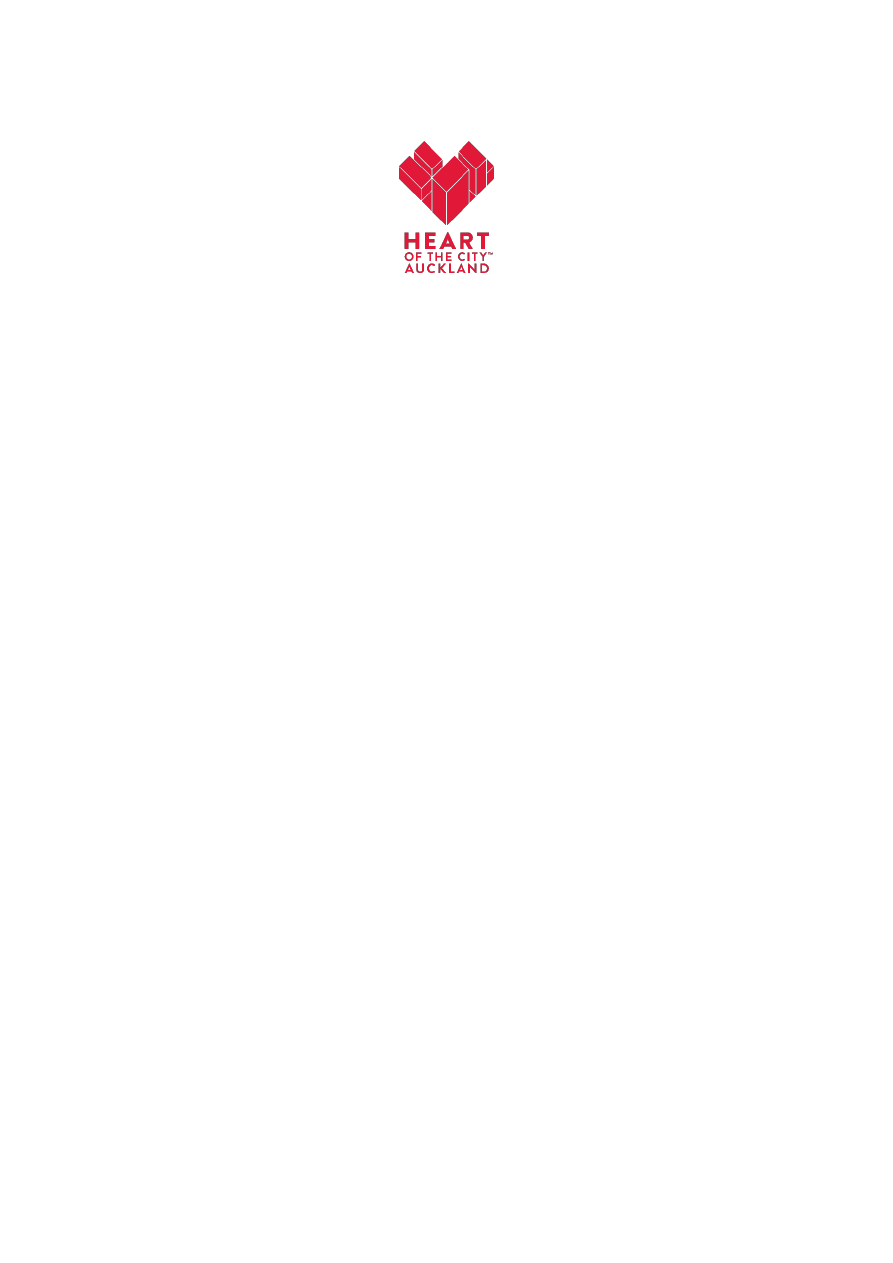 1 
28 March 2018 
Submission on the Auckland Council's 10-Year Budget, 
Auckland Plan and Waste Management and 
Minimisation Strategy
Thank you for the opportunity to make a submission. Heart of the City represents more than 4000 
commercially rated properties and a large proportion of the 12,000+ businesses in the city centre.  
We are committed to the growth and success of the city centre – both economically and as a thriving 
and liveable place.  
The city centre contributes close to 20% of Auckland's GDP.  It is growing at pace, with more than 
120,000 people working and 45,000 residents in the city centre and remains a priority development 
area under the Auckland Plan.  
The focus of our submission is on the aspects of the 10-year budget (LTP) and Auckland Plan that are 
of particular relevance to our members and the city centre.   
In summary: 
We support ongoing investment in the city centre at an increased level to support its growth and 
success, including an extension of the city centre targeted rate.  We also ask Council to ensure that 
there is adequate provision for maintenance as well as funding to support our world class Art Gallery 
and our built heritage to enrich the city's cultural experiences for Aucklanders and visitors. 
It is critical that we have a rating policy that can bridge the gap of years of under investment, and 
that it can encourage and not inhibit business growth and much needed private sector 
development. 
It is also important that we invest to support the challenges associated with this growth and do more 
to achieve greater social inclusion in our city.  We must ensure that there is adequate funding to end 
homelessness in the city centre before it becomes an even bigger issue. 
2 
The 10-Year budget 
1. Transport & Regional Fuel Tax  
It is vital to support and deliver on an affordable and accessible public transport system across 
Auckland to support population, employment, and visitor growth in the city centre and critically to 
ensure that we can create priority for freight and delivery movements across Auckland, and into and 
out of the city centre. 
Our preference is to introduce initiatives that both manage demand and raise funding equitably as 
soon as possible, balanced with investment into affordable and more frequent public transport in 
order to effect sustainable behavioural change. 
In the interim, we support a regional fuel tax of 10 cents per litre (plus GST).  However, it is 
essential that this tax is hypothecated to spending on specific transport projects and services and 
is reported on with complete transparency.  We ask that the forthcoming Regional Land Transport 
Plan clearly identify this source of funding and the specific transport projects and services it will be 
spent on.  We will be making a submission to this plan in April.  
We ask that as the legislation is drafted, Council advocates for the GST portion to also be 
hypothecated to Auckland's transport projects/services and that non-road fuel not be subject to 
the tax.   
To ensure transparency, we also ask that the projects and services being funded by the tax be 
distributed following a clear rationale and identified clearly in future Council Budgets. We also ask 
that central government's contribution to Auckland transport funding be included transparently in 
such budgets so we are clear about its ongoing contribution.  
While we understand that the Government can pass the legislation necessary, if for some reason 
that does not occur and the Interim Transport Levy must remain in place for another year, we 
support it remaining set as $113.85 for residential and farm/lifestyle ratepayers and $182.85 for 
business ratepayers.  
Finally, we note that a regional fuel tax of 10 cents per litre is only a small step towards addressing 
the funding gap the Auckland Transport Alignment Project (ATAP) identified at $5.9 billion. We 
request that Auckland Council and the Government commit to urgently delivering fair and equitable 
solutions to fund this gap not only in order to ensure that Auckland's transport system does not 
grind to a halt, but to enable the continued growth and vitality of New Zealand's largest city.   
2. Rates and Funding 
Our overall feedback is that what businesses need most from Council is a reasonable, transparent 
and stable approach to rates. In that regard, we support the Council being clear about how general 
rates increases will be made over time. We also appreciate the funding gap for major infrastructure 
and believe that new models of funding are required.  
a) Business Differential 
Businesses are paying a disproportionately high level of rates and we question whether an average 
urban business rates increase of around 6% (without the accommodation levy and fuel tax) is fair.  At 
a principle level, we do not accept the view that a business differential should be applied to rates 
3 
especially for reasons that businesses are better able to manage additional costs than residential 
properties.  This does not justify the business differential, particularly for small businesses who make 
up most businesses in Auckland. The Shand Report on Funding Local Government recommended 
against rating differentials.   
Auckland businesses pay 2.73 times more rates than other ratepayers, or around $150 million more. 
By comparison, Tauranga City Council has no business rates differential at all. 
In the city centre, our support for the ongoing collection of the city centre targeted rate, generating 
$20M per annum in the city centre has been conditional on the ongoing reduction of the business 
differential.  
We ask Council to consider accelerating the reduction of the business rates differential given the 
vital role business plays in driving the economy, investing in the city and providing jobs.   This 
would be reliant on finding innovative new ways of funding development to support growth. 
b) Cleaning up our harbours, beaches and streams  
We agree that Auckland must improve infrastructure to save our harbours, beaches and streams 
from being polluted by overflows from ageing sewerage and stormwater systems. Inaction will cause 
reputational damage to the city.  
While we are supportive of transparently 'ring fencing' spending on this kind of infrastructure, we 
do not accept that a business differential (even at 25.8%) should be applied to this targeted rate. 
We accept that business should pay a share, but not a differential.  
c) Protecting our endangered species  
We agree overall that Auckland must reverse the decline of biodiversity in the region, stop kauri 
dieback and address the spread of pests, weeds and diseases.  
However, we note that these matters are not 'core services' under the Local Government Act 2002, 
but more properly the responsibility of central government or taxpayers.  Auckland Council should 
seek increased funding from central government because all New Zealand benefits from increased 
tourism and our international clean green branding.  Auckland ratepayers should not be the first 
direct source of funding for projects that have a wider benefit than just the Auckland region.  
While we are supportive of transparently 'ring fencing' spending on this kind of infrastructure, we 
do not accept that a business differential (even at 25.8%) should be applied to this targeted rate. 
We accept that business should pay a share, but not a differential. 
d) Rating online accommodation providers  
As we expressed prior to its introduction, we are not supportive of the Accommodation Levy. It is 
unfair in terms of applying an arbitrary share of ATEED's expenditure on events and promotional 
activities to the accommodation sector, reflecting that the Council lacks an evidence base of the 
actual commercial benefits to the accommodation providers subject to the targeted rate.   In 
principle the benefits from ATEEDs activities will be dispersed across many individuals (i.e. visitors to 

4 
events, tourist destinations etc.) and businesses within the transport, food and beverage, retail and 
various service sectors.  That is why the majority costs of such activities have historically been 
treated as a 'collective' good and therefore met from general rates revenue.  
The introduction of this rate is also yet another hurdle for developers that should be encouraged to 
build much needed accommodation capacity.  For some accommodation providers, the targeted 
rate has resulted in significant rates increases.  Some providers have benefitted from exemptions 
while others have not. This contradicts the Council's view that there should be rates stability.  
The proposal to extend the accommodation providers' targeted rate to private accommodation 
providers is similarly flawed.  We do not support it for the same reasons. 
Our preference is for the Government to introduce a levy on international visitors to fund tourism 
projects.   
However, if the Council decides to retain the accommodation providers' targeted rate, then we 
agree that it should be extended to rating online accommodation providers (like Airbnb) in an 
equitable way.  
e) City Centre Targeted Rate (CCTR) 
We support the continuation of the City Centre Targeted Rate to cover the full 10-year budget.  It 
has contributed significantly to the transformation of the city centre since 2004, and it provides 
certainty of revenue and underpins an uplift in amenity specific to the city centre.  
We do note however that we cannot or should not solely rely on just CCTR to fund the city centre's 
transformation. This is a regional asset, generating $100m per annum of general rates for the region 
and the city centre should continue to receive public sector funding from other sources (as do the 
many local town centres around Auckland).  
f) Other Funding Mechanisms to support growth 
Many of Auckland's issues are New Zealand's issues.  Auckland urgently needs new ways to fund 
much-needed infrastructure.  Whilst we are supportive of the proposed regional fuel tax, and 
encourage Council to work with Government to introduce new funding mechanisms to fund 
transport infrastructure, we believe that Council also needs to lobby Government to fund non-
transport infrastructure to support our rapid growth. We ask Council to investigate the option of 
returning a share of the GST generated within the Auckland region for investment in Auckland.  
4. City Centre Investment & Priorities 
We welcome ongoing public sector investment into the city, as it is having a demonstrable benefit to 
the city centre economy, community and environment.  The city centre is growing in its appeal – for 
businesses to locate here and for visitors, as well as the growing residential community who call the 
city centre home.  
Ongoing public sector investment is critical to enable transformational change in the city centre and 
for the wider region. Investment is needed to deliver on a number of the Auckland Plan's outcomes, 

5 
as well as implement the City Centre Masterplan, which will unlock the city centre's full potential. 
This investment however cannot and should not solely be coming from the City Centre Targeted 
Rate.  
We are concerned that there is not adequate budget in the current 10-Year Plan to deliver on 
these aspirations and meet the demands of a growing city centre. We ask that Council allocate 
funding to at least the level of scenario B ($922M)
1
 for the city centre investment option.  We 
would like to see additional funding invested into the city centre to support the vital economic role it 
plays in the region and for New Zealand.  The investment is needed to leverage off the significant 
private sector investment being made in the city, to support our growing worker numbers and  
Auckland's biggest residential community, and its importance as a tourist and visitor hub.  
Our support for additional funding to at least the level of scenario B is based on the following 
rationale: 
  We want to see investment in our waterfront area to make it more accessible and maximise its 
potential – people tell us that if we make more of our city's assets then we will continue to grow 
the city's appeal. We recognise and support the need to invest into the downtown and 
waterfront area to maximise and leverage off the event of America's Cup. 
  We want the Council group to take a "do it once, do it right" and a holistic approach to all 
projects. This means that there needs to be adequate budget to deliver great public realm 
outcomes with quality amenity as well as factoring operational requirements of the city centre - 
avoiding expensive rework as well as managing the cumulative impact of multiple disruptive 
projects.  
  Specifically, we want to see projects scoped and funded to deliver quality public realm outcome.  
For example, we understand that a number of funded transport projects, such as the Wellesley 
Street busway project do not have adequate budgets to support an 'amenity uplift'.   
  We are not advocating for increasing project budgets carte blanche – but need to ensure that we 
get 'great places' for people to enjoy and spend time in, that support business, and not just to 
get from A to B. 
  Given the city centre is Auckland's biggest residential community and is growing, along with city 
workers, at a rate far greater than the rest of Auckland, in a dense and built up environment, it is 
vital that we can support business, and build healthy communities by providing opportunities for 
social interaction through appropriate levels of public amenity and public space. 
  We would like to see additional investment made into improving the city centre's west-east 
connections as well as support the western area of the city centre over and above the planned 
investment in the downtown and waterfront areas. There has not been the expected level of 
investment made into the public spaces in this area despite many years of planning (via the 
Victoria Quarter plan) and private sector development in the area. 
  Critical to the support for the further investment and development into the city centre, is the 
assurance that there is adequate budget given to mitigating the impact of construction through 
the implementation of a holistic development response approach – this includes 
communication, business support packages, activation, wayfinding and travel demand planning 
across the city centre.  
 
 
1
 As identified in page 27 of Auckland Council's 10-year Budget 2018-2028 Supporting Information.  

6 
5. A well-managed City 
We understand that the 10-year budget does not propose any changes to operational budgets nor 
intended service levels for maintenance and asset management - including cleaning and asset 
replacement.  We have concerns about the current levels of maintenance in the city centre and the 
impact this is having on the positive perceptions of the city including those of safety.  
We would like Council to give consideration to the needs of a growing city, and notwithstanding the 
pressures on budget, we would like assurance there is adequate priority and impetus given to quality 
service levels in a city that has increasing pressures – particularly those that come from growth. 
Given the considerable investment into a quality public urban realm environment, we need to 
ensure that we are maintaining, cleaning and replacing these assets at a level commensurate with 
the level of capital investment.  We can't afford to cut operational budgets or the levels of service in 
this area as this has a real and detrimental impact on our city's reputation and perceptions.  
 
6. Local Board Feedback:  Waitemata Local Board (WLB) 
We are supportive of the WLB's priority to develop a public amenities strategy for Auckland's city 
centre.  The lack of public amenities in the city centre means that we are not meeting the basic 
needs of our broad city centre community – including our workers, residents, visitors and our street 
community. 
With a daytime population of more than 200,000 people we need to provide safe and accessible 
public amenities – including toilets, showers, lockers and drinking fountains and these should be 
appropriately and aesthetically  incorporated into the scope of public (and private) infrastructure 
projects.  
7. Other areas for feedback 
a) Auckland Ports 
We note our interest in the Mayor's intent for this LTP to obtain advice on options regarding 
preserving the future of the waterfront area currently occupied by the port, and steps for 
considering port relocation, including building on the Port Future Study to determine an alternative 
viable option.  We anticipate this work will be progressed and funded in year 1 of the LTP and will be 
undertaken in tandem with the Central Government Upper North Island Supply Chain Strategy.  
We have consistently sought that the Council settles on a city centre and waterfront plan that 
optimises long-term use of waterfront space, whilst ensuring no further reclamations and ideally no 
further wharf extensions in the harbour.  We will want to submit on any subsequent 'new' plan for 
the port, which will undoubtedly have implications for the future use of waterfront space. 
We also support the proposal to disband Auckland Council Investments Limited (ACIL) and bring 
the Council's shares in the port company into direct management by the Council on the basis it 
should allow for stronger strategic alignment and communication between the two entities.  We 
hope that a long-term plan for the waterfront will be achieved in 2018/19. 
7 
b) Funding for the Auckland Art Gallery  
We support the Mayor's proposal to allocate a further $20m to the Auckland Art Gallery Toi o 
Tamaki over the next ten years, to close the funding gap given its importance in the life and quality 
of our city – not just in the city centre but also for the region.  
c) Homelessness 
In the city centre, we are visibly reminded of the chronic levels of homelessness that Auckland faces, 
and this is often challenging for business and for the city centre environment. 
We support Council's ongoing investment into supporting the end to homelessness but we don't 
believe that what is proposed in the 10-year plan, $500,000 per annum, is adequate to have a real 
and lasting impact on this Auckland wide issue.  
We recognise that a large portion of funding for the Housing First programme should come from 
central government, and ask Council to work with Government to ensure that Auckland receives a 
higher level of funding to ensure that the Housing First programme can be sustained beyond 2018.  
Notwithstanding this, we ask that Auckland Council consider making a financial contribution to the 
Auckland City Mission's Homeground project – a central city development that will provide 80 units 
in the central city, including 40 units for the chronically homeless and 40 for low-income residents.  
This development will deliver on a number of outcomes sought by The Auckland Plan – including 
Belonging and Prosperity and Homes and Places. It will also facilitate and enable those currently 
homeless to more likely tap into the opportunity to experience Opportunity and Prosperity as 
expressed in the Auckland Plan.  
It is not unusual for Council to make a contribution to private sector developments – it has 
previously made a $10M contribution to the development of the ASB Theatre on the Auckland 
Waterfront. We ask Council to consider making a similar contribution to this project to help achieve 
the goal of ending homelessness in the city centre.  
d) Heritage 
Historic heritage is an important asset in the city centre and Auckland Council should support its 
maintenance and protection. Specifically we would like to ask that: 
  If the money in the Built Heritage Acquisition Fund is not spent in a particular budget year, that it 
is rolled over into the following year. 
  Funding for the Regional Historic Heritage Grants Programme be increased from $80,700 per 
annum to a level commensurate with the needs of the city.  The level of funding as it currently 
stands is similar to grant programmes in smaller councils in New Zealand. 
e) Savings & efficiencies 
8 
We believe significant savings can be made by reducing silos and improving efficiencies across the 
Council and CCOs. We welcome the s17A Reviews being undertaken by the Mayor as a means of 
establishing 'value for money'.   
f) Draft CCO Accountability Policy   
We support the Draft CCO Accountability Policy and especially the common expectations to be 
placed on CCOs of building public trust and confidence, providing value for money and building a 
group approach. In particular, we ask that the common expectations reflect a holistic and 
integrated approach to planning and project design/delivery across the Council group, with clear 
lines of communication and a commitment to seek local and regional BID input (as appropriate) 
early enough to influence outcomes and deliver improved results for businesses.  We ask that the 
expectations reflect a requirement for effective co-ordination of projects within local areas and a 
"do it once, and do it right" approach to all works and projects, avoiding expensive rework and 
ensuring a better use of resources. 
The Auckland Plan 
a) Supporting business  
We ask that the proposed Auckland Plan continue to include Directive 6.3 of the current Auckland 
Plan, that directs Auckland to: "Protect, enhance and improve business-zoned areas and business 
improvement districts" and also continues to include paragraph 384, which states:   
 "384_ To boost the economic growth of town centres and business precincts, the Auckland Council 
has a Business Improvement District (BID) policy to assist local associations. BIDs are funded by 
targeted rates and allow businesses to use the funding to improve the local business environment 
and promote business growth in a way that meets their communities' needs. There are currently 46 
[now 48] BIDs operating in Auckland, representing over 25,000 businesses. The local boards are joint 
partners in the BID Partnership Programme with the Business Associations. This relationship will 
build on established local priorities." 
b) City Centre priority 
We support the Auckland Plan's direction for the city-centre, noting that it provides for the city 
centre as a priority development area, which stands to attract high levels of private investment in 
the first three years of the plan, in advance of completion of the CRL and hosting of major events.   
It is appropriate that the plan retain and refer to the strong vision in the City Centre Masterplan and 
Waterfront Plan, which set out priorities for investment in public transport, pedestrian 
environments and public spaces to shape the future of the city-centre.  
c) Heritage 
Historic heritage and built heritage are absent from the Draft Auckland Plan and we ask that this gets 
incorporated.  In contrast, the 2012 Auckland Plan has a 14-page chapter on Historic Heritage. The 
value Aucklanders place in their city's historic and built heritage has not changed in six years, while 
these items have come under increasing threat. The city centre in particular enjoys the amenity that 

9 
many historic heritage buildings provide, and many city centre businesses are located in these 
buildings. 
While the Auckland Plan is a non-statutory document, the Auckland Unitary Plan (which will deliver 
the AUP goals) operates under the Resource Management Act. Under s6(f) of that Act, Auckland 
Council, and all persons exercising functions and powers under it have a duty to protect heritage.  
The Auckland Plan must provide for the protection of the city's heritage resources by identifying 
historic and built heritage worthy of preservation, adopt suitable measures to preserve these 
resources and ensure a cautionary approach is taken with regard to activities that may adversely 
affect unidentified heritage resources. 
Council's Heritage Advisory Panel in May and September 2017 recommended the inclusion of 
specific wording on historic heritage. Accordingly, Focus Area 4 in the draft plan should be 
amended to "Protect Auckland's significant environment, cultural and historic heritage from 
further loss" and Outcome 5 should be amended to "Environment, Cultural and Historic Heritage." 
Waste Management and Minimisation Strategy 
We agree that the priority must be the three largest waste items - construction and demolition, 
plastic and organic waste.  We ask that Council pay particular attention to the nature and frequency 
of its collections in business areas as one way of addressing these waste streams.  We support 
Council continuing to establish community recycling centres and leading by example through its own 
operations and procurement practices. 
We also support Council asking central government to introduce a container deposit scheme for 
plastic/glass bottles and cans, and product stewardship schemes for hard to dispose products like 
tyres and e-waste. We also support Council asking central government for an increase in the Waste 
Levy beyond $10 per tonne provided the revenue is 'ringfenced' to provide the necessary 
infrastructure to ensure waste is diverted from landfills and that any increase is phased in over a 
well signalled time period.  
The daily presence of rubbish on our city's streets waiting to be collected is one of the big issues 
affecting what people think about the city.  We think that there are opportunities for the city 
centre to collectively deal with waste in a more innovative way - reducing the amount of waste 
generated as well as improving the appearance of the city, and we would like the city centre to be an 
exemplar in becoming zero waste.  We would like to work with Council and businesses in the city 
centre to find ways to make real changes to minimise rubbish and deal with what we do produce in a 
more sustainable way. 
Contact for this submission: 
Viv Beck, Chief Executive 
Heart of the City 
09 379 8000