Exploring the city's big issues with art in the streets
This year for Artweek in the city centre, local artists are taking on some of the big issues facing Auckland with art installations in the city's streets and public places.
We talked to artists and university academics Matt Liggins and Paul Woodruffe about the ideas their works are exploring and why making art easy to access - in public places and at events like Artweek - is so valuable for our city.
Matt, who's from the University of Auckland's School of Architecture, has brought a unique blend of architecture, art and issues into the Artweek mix along with a number of students over the past three years. This year's Urban Art Village, taking place on O'Connell Street for Late Night Art on 9 October, looks at all kinds of topical issues, from the environmental – like Seth Schanzer's straw structure considering peoples' disconnect with natural resources – to the social – like Sharon Shin's reimagining of a city bus stop to add more life and energy to the city environment - based on the personal interests of each of the six artists involved in the project.
Matt's own work, House of 9,783 plastic bags / House for Homeless 2, is a tiny house for a couple which makes creative use of unwanted plastic bags from family and friends. It revisits a 2001 work, where he built a house for homeless people on the corner of Federal and Cook Streets. Matt says the work critiques how society throws people out and looks at ways they be brought back into society, while looking at how to reuse materials that would usually be thrown out.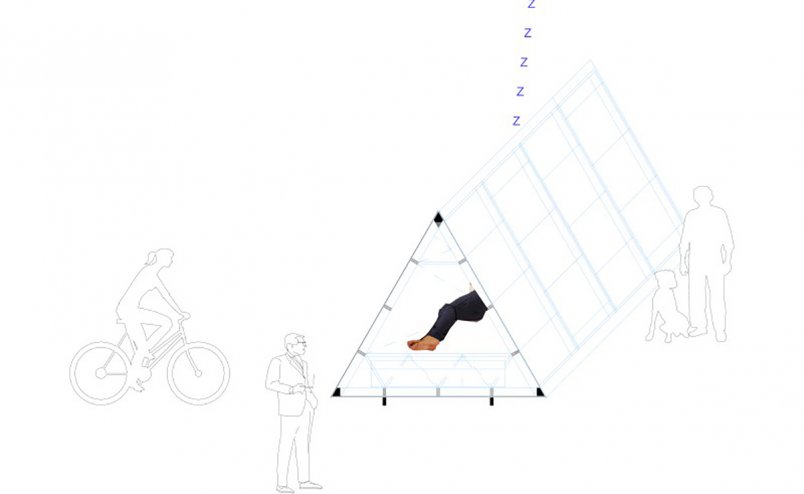 Artweek followers may recognise Paul's name from his 2016 Changing Lanes installation celebrating the history of the Zwines punk rock club in Durham Street East. A Senior Lecturer in Unitec's Creative Industries department, Paul has been involved with the LifeWise Trust over the past year, working alongside people who have lived experience of homelessness to solve problems using creativity.
His project for Artweek, The Little Theatre, which will be in place at Auckland Central Library from 6 - 14 October for Artweek, has been collaboratively created with photographer Shadow, digital producer William Bardebes, carver Tiari Turetahi and designer Oliver Cain. The theatre, based on a classic 19th century Punch and Judy show, will show digitally animated photographs of the city centre displayed on old iPhones within a cityscape diorama. Paul says Shadow's photos tell a textured story about the city centre. "These images were taken by somebody for a purpose, to tell a story. So there's people in it, there's buildings, there's interiors, there's all sorts of stuff on the photographs, it's not just pictures of streets. It's quite a mixture. All of the central city."
The power of art – what impact might these works have?
Paul believes that connecting the creative community who are homeless with an audience through events like Artweek can go some way towards destigmatising homelessness. "When you see Shadow's photographs and you see that that the art that some of these people are producing it's absolutely fantastic and I think it's going to hopefully open up a world for people in the city that they normally would not see. There's some very creative people that found themselves sleeping rough through just a series of unfortunate events and bad luck."
Matt sees dialogue and more visibility of important issues as one of the outcomes of these works. "It's just to get people talking; a built piece of work that people can see and comment on and spread the word to look at different alternatives."
Events like this can also provide further opportunities for the artists involved. Matt points to one example of a student landing a job off the back of last year's Urban Art Village and another where a work was picked up for exhibition as part of another festival after Artweek. "I think it's a good jumping board for students to get involved in projects that can connect with people that are outside of the university sphere."
Street vs. gallery
Paul and Matt agree that art in public places is a good way of making it more accessible, increasing visibility and removing the barriers of affordability and the sense of intimidation some people can have entering more formal exhibition spaces.
Paul suggests that art in the streets can play a supporting, bridging role for galleries. "Then maybe next time they pass a gallery they'll feel more likely to go in because, you know, if you encounter work on the street that sort of normalises it for people. So I like to think that it supports the galleries in town as well."
We know that events are a big drawcard for people visiting the city, and that activation in the streets and visible arts and culture add vibrancy, creating a place where people want to spend time. Matt echoes this, "I think it's great that Heart of the City are behind this and that the city can grow in its complexity and intelligence and have a bit of life in it. I think it's a great thing."