Snickel Lane: a new addition to Auckland's downtown laneway neighbourhood
We've seen a laneway renaissance in downtown Auckland over the last few years, with property owners turning under-used ground floors and carparks into vibrant areas for bars, cafes, and most importantly, people. Following in the footsteps of Imperial Lane and the laneways of Britomart, Snickel Lane is the newest privately owned public space in town, and it's the latest step in the rejuvenation of the colourful Fort Street neighbourhood.
The new kid on the block
We asked Warren Cate from Argosy Property Limited, who've just developed Snickel Lane, about their new addition to the city centre landscape and he told us that they were led by instinct. "The laneway was entirely the right thing to do for this precinct and we really wanted to embrace that."
The new lane is currently home to a café, a florist, four restaurants - Japanese, Spanish, European and a Polynesian poke bar - and a mural by a graduating Elam artist which will be updated each year. With a new sawtooth roof letting in lots of light and reclaimed finishes like old timber shopfronts, butchers tiles and Canadian barnyard timbers, Argosy went to great lengths to make the most of an unremarkable 90s building and create a space that fits with the grit of the neighbourhood. The tenants have been carefully selected too, with a focus on small, one-off operations and the right mix of personalities.
From notorious to nice
A decade ago, Fort Lane was a slightly notorious nighttime destination and a boring service alley for Queen Street businesses by day. The latest stage of transformation for the area began before the 2011 Rugby World Cup, when Auckland Council began its programme of shared space street upgrades. Funded by the City Centre Targeted Rate, which is paid by city centre businesses and residents, the idea was to create places that are more attractive for people to spend time and encourage new investment by the private sector.
Terry Gould from Phillimore Properties, who own Imperial Lane, thinks council succeeded on that front - Phillimore saw an opportunity with the streets around them being transformed and shaped their own development plans to take advantage of it. He says property owners leverage the success of neighbouring areas too.
"People start things. It's like what Peter Cooper's done at Britomart, it kicks off a whole urban development and people start to say, 'That's a good idea, I'll do something similar with my buildings'". Terry Gould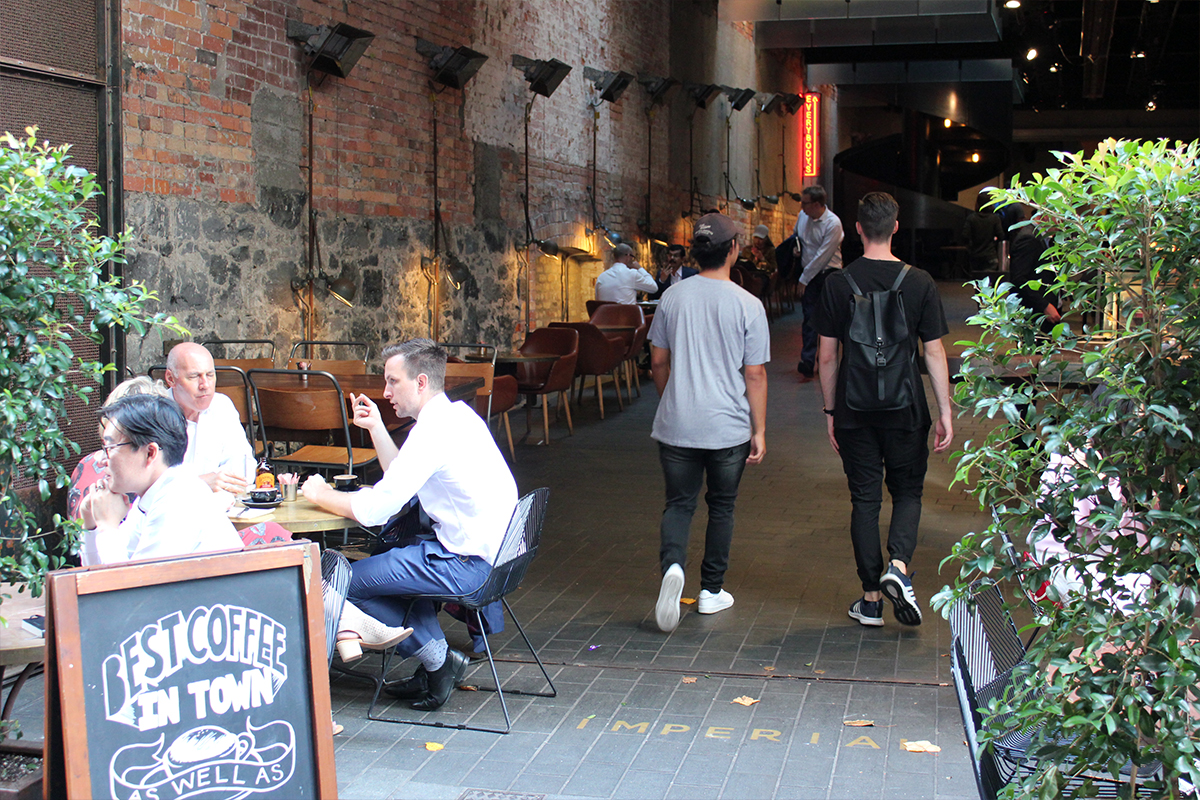 One thing that Britomart and the Fort Street area have in common is the blurring between public and private spaces, with privately owned laneways that look like public streets and even have the same style of paving stones carrying through from the street outside. Terry describes it as connectivity permeating throughout an area. "Suddenly the whole area starts to be full of interest and surprise and all the rest of it."
Show me the money – what about the results?
These developments aren't just about making great looking places for people to enjoy though – they're also about business results. Warren says that, as an institutional investor, Argosy's main investment in Fort Street is their 14 storey office tower – and it just happens to have a ground floor.
"The tower tenants are just loving it. Can you ever have enough food, coffee and wine options around in a city? Now here's another option in the bottom of the building that feels a bit more like a part of them." Warren Cate
The changed use of space from three large retail tenancies and a first floor carpark to smaller tenancies commanding higher rates makes sense too. "The kind of rental you get on these spaces is heading towards Queen Street values. It's setting whole new standards for ground floor rental on what we had here."
The wider Fort Street area has seen the benefits of the attention it's been paid in the past few years too. Nilesh Patel, Director of Retail at Colliers International, says that rentals in the neighbourhood are now commanding rates similar to the wider High Street District. "We've seen this area grow in appeal since it was upgraded. There's a lot more activity, it's nicer and safer. The laneways make it easier to access from Queen Street. It's definitely a successful part of the downtown area."
Between 2009 and 2017, spending at businesses in the lane grew by 291%, or a year on year average of 22.7%. Some of this is a result of the growing number of businesses in the area - there's almost double the number there was in 2009 - but the lion's share of the growth comes from higher value transactions, and more of them.
Ensuring Auckland's city centre is a safe, welcoming, exciting place to visit and enjoy at night.
Where to from here?
Across the road from Snickel Lane on Commerce Street, construction has begun on The Pacifica, a 54 level residential and hotel tower with a laneway retail space on the ground floor that will connect through to Gore Street and Gore Lane. Within a couple of minutes' walk lie Britomart, lower Queen Street and Commercial Bay – all currently undergoing huge change and designed with people in mind. We expect that we'll continue to see plenty of interest and development in the area as it continues to evolve in the years ahead.