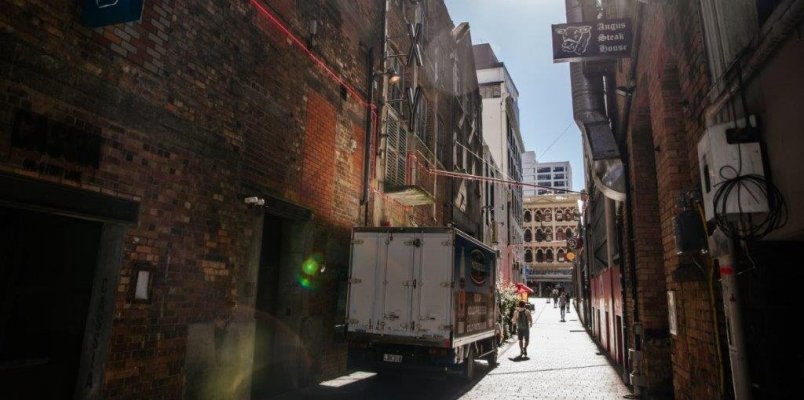 Many city centre businesses, property owners and their suppliers face challenges with loading and servicing, a vital part of doing business and maintaining a successful city centre.
In our increasingly busy and populated city, traffic congestion can make vehicle journeys slow and people walking or on bikes are only able to carry small loads.
Ensuring that the city centre can be serviced and maintained and that goods can be delivered is vital for its success. As the city continues to evolve and grow, the approach to loading and servicing will need to adapt, and innovation will be central to this.
We are working closely with business, AT and council to explore how servicing and freight delivery can be improved for the city centre in this changing environment.
Loading and Servicing Reference Group
In partnership with Auckland Transport, we have established a Loading and Servicing reference group looking at the needs and issues around loading and servicing and exploring ideas for innovation in the changing city environment. This will feed into plans like Access for Everyone (A4E) which we are collaborating on with Council.
Access for Everyone
A4E is a city access concept based on examples used successfully in overseas cities like Barcelona and under consideration in Melbourne.
The idea is to make it easier for people to access the city, prioritising access for necessary trips like those by emergency vehicles, servicing, construction vehicles, deliveries, rubbish removal, existing access to buildings (including parking buildings), people with specific mobility requirements and other critical business trips.
Council is looking at city centre access needs for all kinds of users and exploring issues and opportunities. We're a part of the stakeholder group inputting into this process.
Find out more about Acess for Everyone.
Would you like to share your views?
Is loading and servicing critical to your business? We want to understand the needs and issues for business and property owners around loading and servicing in the city centre - to help identify ways in which this can be improved. If you would like to talk to us about this subject, please email Tania Loveridge tania@hotcity.co.nz or call her on (09) 379 8000.
Case studies and further reading