City centre champions open new businesses
Two recently opened businesses in the heart of the city - Paname Social and Panacea – have owners who have worked and owned businesses here for years and are real champions of the city centre.

On the ground floor of the refreshed HB Central Building is Paname Social, the brainchild of Matt Gosset, who has spent almost two decades dishing up French delicacies for Aucklanders.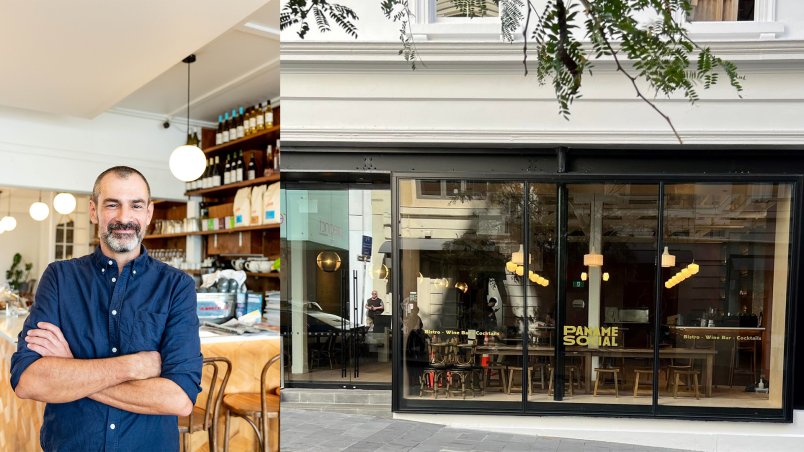 The Parisian native was first on Lorne Street over a decade ago, with La Boulange, quickly developing a devoted following thanks to its freshly made baguettes.
"Back then I saw the potential of Lorne Street…I believe the city is full of life, any day of the week and any time of the day at the moment and it will only get busier and busier. It's an amazing place to be with workers, students, residents and tourists" says Matt.

Ever since then, Matt had been "willing to bring our idea of an all-day Parisian bistro to the Auckland city centre." As fate would have it, a month after the opening of his K'Road eatery Atelier his landlord showed him the "magnificent, still under extensive renovation" HB Central. "I didn't hesitate. I couldn't say no" recalls Matt.

After years of dreaming about his bistro in the heart of the city, Matt describes the interior design of Paname Social as "an evolution of the modern French bistro and making sure we respect and restore the beautiful features of this amazing heritage building."

Down O'Connell Street and up a flight of stairs is Panacea, which has been transformed into a swish secret cocktail bar and the cumulation of a long-held dream for owner Dany Denith, who has previously worked at Euro and Parasol & Swing.

"Service – simply being able to talk to people" is at the heart of Panacea. This ethos has – and continues – to shape all aspects of it.
"Everything's designed to spark conversation," says Danny, including perhaps Panacea's most notable feature – being a cocktail bar without a bar.

This purposeful decision means that patrons don't order their drinks at a counter, nor is there the hustle and bustle that comes with fixing cocktails.

In a move that's "unique to Auckland and growing in places like London and in parts of Asia" how Panacea creates its drinks is more akin to a kitchen. Fresh, seasonal produce is delivered daily, and cocktails are batch prepared, with the menu "at least tweaked" weekly. It's an approach that won them two coveted Lewisham Awards for 2023: Pernod Ricard Outstanding Cocktail Experience and BLANC Outstanding New Establishment.

This style of operating means that drinks can be poured to order, and the rest of the time can be spent talking to guests. Conversation starters are abound – like the wallpaper made from prints of the first cocktail book ever written, the elaborate ceiling tiles are photographs printed onto the cardboard their furniture came packed in, and the menu holders, coasters and lights all made in Ukraine.

Given his ties to the city centre, it made sense to Danny to look here, specifically in O'Connell Street. "I was interested in this area for three years. I like it because it's a unique spot and good for doing something different. All the buildings are old, which is cool because it adds character [and] everyone around here has a story to tell."

Keep up to date with new businesses opening in the city centre here.