A CRL update and Q&A with Sean Sweeney
It's nearly three years since early works for CRL began in the city centre, and with realistic video flythroughs of the stations being released and enabling works not too far from being complete, it's getting easier to imagine the day (in about six years) when it's all up and running.
Now that he's three months into the job, we thought we'd ask Sean Sweeney, CEO of City Rail Link Limited, some questions about how he expects the project to change the city centre and more – you can see what he had to say below.
What's the single biggest thing CRL will do for to the city centre?
The City Rail Link is an absolute game changer that will unlock Auckland's public transport network and transform the iconic Britomart Transport Centre from a dead end one-way station into a two-way through station so more trains can get in and out of the city centre.
When it is in place up to 54,000 passengers will be able to travel into the city centre in the peak. That's the equivalent of 16 extra lanes of traffic or three of Auckland's Harbour Bridge.
It will also double the number of people living within 30 minutes of Auckland's vibrant city centre and New Zealand's largest employment hub.
But this project is more than just improving public transport. It's a transformative project that will lead the way in integrated transport and urban development. Two new stations near Aotea Square and Karangahape Road (as well as the redeveloped Mt Eden and Britomart Stations) will enable significant residential and commercial development. For the city centre, that means new urban precincts, more housing and better public spaces.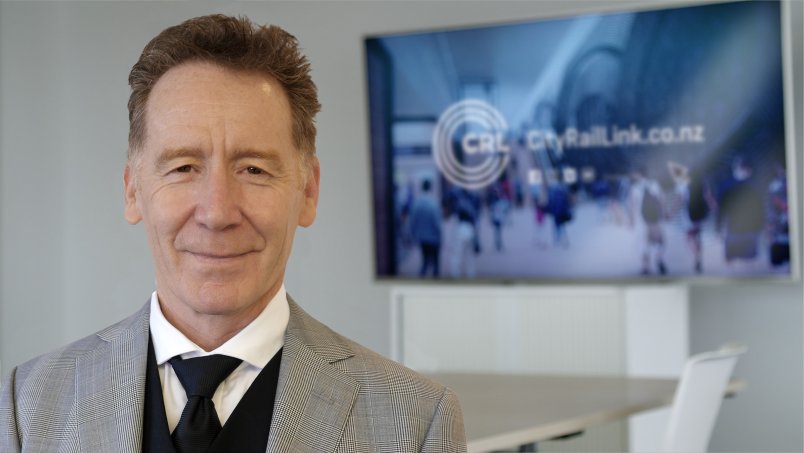 With your experience working on major projects like this, how can projects best work with surrounding communities to minimise impact but also get them on board with the project?
One of the biggest challenges building major and complex projects is managing the impacts on the people who live and work near them. We are always mindful that the construction of the CRL project is taking place in the middle of a very busy, urban environment - creating significant change.
We have an important responsibility to be a good neighbour and to take nearby businesses, residents and visitors along on the journey of transformation. Development response has become more and more of a focus to help manage impacts and enable communities to participate in a project's success and there are a number of initiatives we can use to achieve good results. These include good communications, engaging early and often, activation events, wayfinding, site tours and hoardings displays to name a few.
But we absolutely cannot do it alone. We work closely with contractors, Auckland Council, the business community, stakeholders and residents to find innovative ways to manage the impacts, get people involved and, importantly, keep them safe. Campaigns like Eat Albert and Wednesdays on Wellesley have proven successful ways to encourage people to participate in the activation of changed spaces throughout the city in the past and we'll continue to work with businesses and associations like Heart of the City to identify more ways as the project evolves.
Come opening day in 2024, what will change for people who work, visit or live in the city centre?
When the City Rail Link is in place, people will benefit from a modern underground rail network with the turn up and go services people expect of the world's best cities.
It will have a profound effect on the way people move about Auckland and the city centre.
By providing better frequency and reliability, the City Rail Link will encourage people to leave their cars at home making it easier and safer to walk around the city centre and easing pressure on the roads for those who need to use them.
It will ease bus congestion in the city centre and deliver significant time savings so people can get to where they need they need to be quicker and with ease.
Commercial development around the stations will revitalise key areas and provide people with better access to housing and employment opportunities - making the city a more attractive place to live and do business.
Looking back in 10 years' time, what would make you proud of this project?
This is New Zealand's largest-ever transport project and I have no doubt that in ten years' time we will wonder how we ever did without it. Imagine London without the tube or New York without the subway. That's how I believe we'll be talking about the City Rail Link in the future.
I am proud to be part of such a significant project that really will get Auckland on track to a better future. In ten years' time I'll be proud to see a world-class transport system delivering significant benefits in a number of ways and I will be most proud of the hard work everyone – whether on the tools, a neighbour, a stakeholder or someone with a keen interest – has put in to get us there.
City Rail Link Project Update October 2018
Albert Street
Now - end 2018: Excavation complete
Now – end 2018: Tunnel box construction continues
Late 2018: Trench backfilling between Wyndham and Swanson Streets will commence
Mid-2019 – end of 2020: Road reinstatement
Customs Street/Commercial Bay
Now – end 2018: Excavation under Customs St complete to allow connection to the Commercial Bay tunnels
Late 2018: Construction of the tunnel structure under the intersection will begin
Mid 2019: The tunnels beneath Commercial Bay will be connected with the Albert Street tunnels.
Britomart
Now – end 2018: Tunnel excavation works will continue between Britomart and the tunnels under Commercial Bay
Early 2019 – mid 2019: Tunnel construction from Britomart and across Lower Queen Street
Estimated 2020: Britomart Train Station main entrance from Lower Queen Street re-opened and the urban realm works around the station completed.
Aotea Station (and Albert Street between Victoria and Wellesley Streets)
Early 2019: the project anticipates undertaking early works (utility diversion)
Early 2019: RFP process with two preferred tenderers expected to be completed in February, with contract awarded by end of March for the construction of stations and tunnels
Late 2019 (expected) - 2024: Aotea station construction
Visit the City Rail Link website for more details of the progress of the construction underway now and the procurement for the next stages of the project, or sign up to receive the CRL newsletter here for regular updates.