It's a hat-trick: city centre metrics rose for the third consecutive quarter
We're pleased to report continued growth in the city centre during a busy three months - our results for the September 2023 quarter show more people were out and about spending more.
Although heartening, it's important to acknowledge that these results are against a backdrop of wider ongoing challenges for business and that the city centre is not immune to them.
The calendar for the quarter was packed with over 300 events - including the FIFA™ Women's World Cup adding a welcome boost.
Total spend got closer to pre-COVID levels, hitting 92% of the same quarter in 2019. Foot traffic also continued to increase – hitting 74% of the September 2019 quarter.
Retail and office leasing showed promising results. Businesses taking leases here - particularly consumer-facing businesses - tell us they are keen to capitalise from the "opportunities for growth." A trend that we expect to continue into the foreseeable future.
Developments also hit major milestones – including 94 Feet Pty Ltd's 51 Albert Street development – which is close to completion - and helping to meet the soaring demand for luxury residential properties in the city centre.

A summary of our insights for the September 2023 quarter is here.
Delve deeper into the most up-to-date data below.
---
Spend continued to steadily shift upwards – with more weekday spending
Overall spend for the September 2023 quarter reached 92% of the September 2019 quarter, with the year-end Sept. 2023 returning 90% (CPI (Consumer Price Index) adjusted) of the year-end Sept. 2019. This continues the positive trend seen in the first two quarters of the year - the June quarter was 91% and the March quarter was 82% of the same respective quarters in 2019.
Comparing the quarter's spend data to the September 2022 quarter, there have been some good increases, including a 6% increase in weekday spend and increases in night-time spend (6 pm - 6 am) and the number of transactions.
---
Internationals start to make their mark, demand for accommodation, cafes and restaurants
Boosted as a likely result of FIFA™ Women's World Cup, international arrivals at Auckland Airport hit 90% of September 2018 arrivals (the month of August was 87%).
When they were here what did they spend their money on?
International cardholders spend increased by 6% vs. the same quarter last year, with the biggest category spend (27%) at our Café and Restaurants. Accommodation and attractions also made up 21% of their spend. Tātaki Auckland Unlimited reported a direct correlation between the FIFA Women's World Cup and an increase in demand for accommodation in the city centre.
In the New Zealand Herald, Horwath HTL noted that "based on occupancy and ADR (Average Daily Rate), Auckland and Dunedin appear to have benefited the most proportionately from the tournament…. This is the strongest increase since the pandemic and shows the overall positive impact of the FIFA Women's World Cup on hotel demand."

What did locals spend their money on?

Cafes and Restaurants took out the top spot for Aucklanders, making up 32% of overall spend.
Within Auckland itself, the former "Auckland city" area residents made up the biggest share of city centre spending (38% - unchanged from the previous quarter).
The positive impact of Restaurant Month on the spend in participating businesses
Our ever-popular Restaurant Month returned to the city centre for its 13th year in August, with over 100 special menus and events. For restaurants that participated, their overall spend for the month increased by 23% on 2019.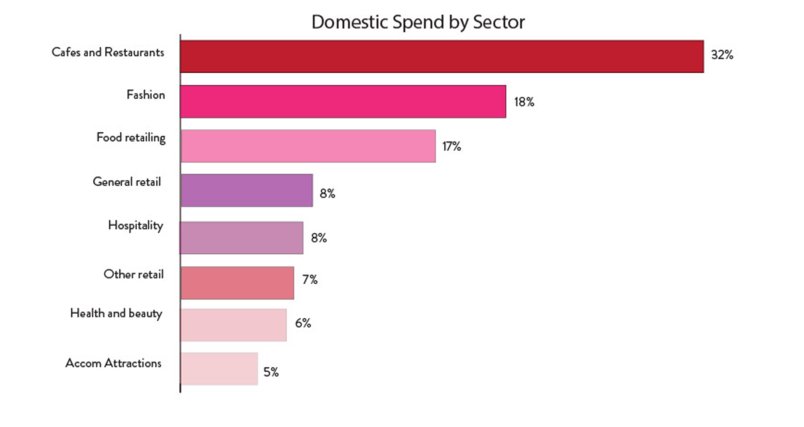 ---
More people heading into the city centre – over 300 events and benefits of working in the office play a role in boosting foot traffic
Whilst not back to where we'd like to see it, foot traffic in the city centre reached 74% of the September 2019 quarter. This was the third consecutive quarter increase of the year.
There was also a 6% increase compared to the June quarter and a 21% increase compared to the September 2022 quarter. This can be partially credited to the increase in international arrivals, a calendar that boasted over 300 events - including the FIFA™ Women's World Cup, New Zealand Fashion Week and our own events - as well as a rise in people returning to the office.
Although it falls slightly outside of the reporting period, Late Night Art, part of our ArtWeek in the City Centre programme in early October saw a 54% increase in foot traffic between 5 pm – 9 pm on High Street, compared to the same time the previous Thursday.
On the night, we spoke to Byron McLean, whose business Cocoa Wilds Chocolate had only been open for two weeks about his impression. He said:
"An event like Late Night Art just reminds people the city's alive, it brings them out onto the streets at times that are really helpful for us…as a new business, it makes me really excited to be able to expose people to our business and what our vision is, what we're offering."
Our data consistently shows that a strong events calendar brings more people, more spend and more buzz into the city centre. We have remained steadfast in the need to ensure there is a strong pipeline of events and remain concerned that there are no major events confirmed for the city centre beyond August 2024 due to a lack of funding.
Our Chief Executive Viv Beck emphasised their value, the need for a pipeline of major events happening and alternative funding mechanisms in an interview with Newstalk ZB.
It's not just events that are important, what's happening with back-to-the-office trends?
Gavin Read, Head of Research for JLL Asia Pacific tells us that the city centre "is where things happen… people want to be back in the office."
He continues:
"Over 70% of employees we surveyed recently said that they wanted to be back in the office between three to five days a week, with 23% saying that they want to be in the office five days a week to be with people."
---
Demand soars for luxury residential properties in the city centre
Home to around 36,000 residents, new residential developments in the city centre mean more people living here - and that's better for businesses.
Agents interviewed in a recent article for Stuff described luxury property in New Zealand as "comparably affordable" for ultra-wealthy international investors, and there is an increasing demand "from locals switching from the family home and cash-rich returning expats used to living in high-end apartments." Auckland's city centre has been rising to meet this demand, literally, with a growing list of luxury abodes either under construction or snapped up.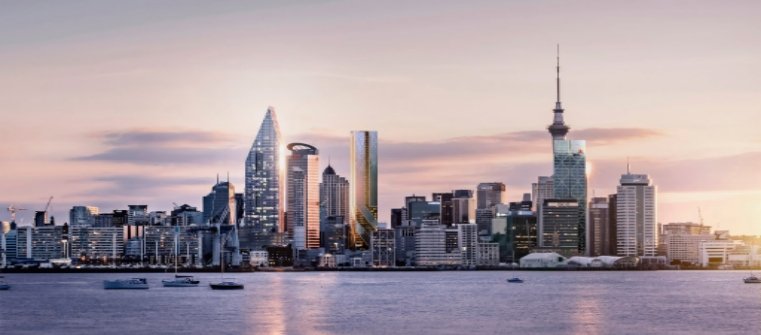 94 Feet Pty Ltd's 51 Albert Street is almost finished, with 39 of the 41 levels already completed by ICON. As a hotel/apartment scheme, 51 Albert Street has 30 apartments, and 80% of them are already sold. While the penthouse apartment in Seascape on Customs Street West is set to bust New Zealand records, with a price tag of $30 million.
Just last week, spades were put into the ground for Winton's luxury retirement village with the apartments reported to be already selling well.
The $600 million project: Symphony developers to restore Bledisloe House
The Symphony building
, which will feature 79 apartments is expected to be completed in 2028.
Its developers MRCB have also taken on the role of restoring its neighbour - the 1959 heritage-listed Bledisloe House. The ground floor will feature food and beverage tenants and is slated for completion in 2026.
In an
interview with Stuff
, RCP Director acting on behalf of MRCB,Cristean Monreal said the ground floor intends to have an "Amano-esque offering - It will be coffee to cocktails for the workforce using the train."
Locally-hired project management firm RCP says that the additional building has brought the total cost of the project to $600 million - a big tick of confidence in the city centre!
---
Leasing news: Premium office building vacancies hit historic low, enquiry and demand for retail increasing
Premium office building vacancy rates in the city centre hit a historic low of under 3%, according to JLL Asia Pacific office vertical vacancy review for the third quarter of 2023. They also reported that 9 out of 26 buildings here have 0% vacancy while 5 additional buildings are 5% vacant or less.
Gavin Read tells us:
"On a global stage, these [low numbers of vacancy] are remarkable and shows how resilient we are here in Auckland."
Average net prime rents increased by $15 per sqm this quarter, according to JLL's New Zealand Office Market Snapshot Q3 2023. And the six prime office buildings currently under construction or being refurbished are expected to add ~106,000sqm by 2026.
While Colliers latest data for retail leasing shows that CBD Strip Retail has made a marked improvement declining to 12.4% from 13.7% the year prior (June 23 vs June 2022).
Nick Pettitt, Retail Leasing Broker at Colliers says:
"There is positive market sentiment, particularly amid occupiers who want to get ahead of the curve."
In JLL's New Zealand Retail Marketing Snapshot Q3 2023, it's noted that average net prime rents in the city centre have had a year-to-date increase of 5.4%. They expect that the upper-end of prime retail rents here will have a further 4.1% increase by the end of 2024.
Nilesh Patel, Senior Director, Head of Retail and Metro, JLL tells us that demand for retail on Queen Street is moving back to pre-COVID levels
"Demand outweighs supply [in Lower Queen Street] therefore rents are back to pre-COVID levels and rising. Vacancy continues to fall in Mid Queen Street, and rents have increased slightly since COVID, but not at the same pace as Lower Queen Street."
Speaking broadly about retail leasing in the city centre, Nilesh says that "enquiry and demand for retail in the city centre has increased this last quarter and we expect this to continue into the foreseeable future…[businesses are motivated to locate to the city centre by] the increase in tourism, increase in workers returning to their workplace and a longer-term goal to be established in time and to take advantage of the City Rail Link."
---
Business Snapshot:
Over the past year (2022), the number of overall businesses in the city centre grew by 3.1% to 14,958 and the overall number of jobs grew by 6.6% to 146,601 people. As we look ahead, we're pleased to report a positive trend in the number of consumer-facing businesses opening here over the last few quarters (+6% September 2023 quarter vs. September 2022).
So, who are just some of the new businesses that have announced their intent to open in the heart of the city?
Popular Korean fried chicken chain NeNe Chicken opened at 246 Queen Street to an "overwhelming response" in September, Marcus Teh, General Manager for NeNe Chicken New Zealand told us:
"The main [reason] we wanted to open NeNe Chicken in the city centre is because there's a lot of opportunity for growth…where we will have the City Rail Link and new businesses coming back into the city centre. The hustle and bustle in the city centre has been growing."
Read our full interview here.
Popular coffee spot The Receptionist reconfirmed its confidence in the city centre by opening a third location in Exchange Lane (just off Queen Street) to complement their Little High Street and Lorne Street locations.
Four Square Britomart recently opened on the ground floor of the gorgeous heritage-listed Hayman Kronfeld Building. Mark Coultson and his team will be catering to our community of workers, commuters and residents.
Chris Quin, Chief Executive of Foodstuffs North Island Limited says about the opening:
"We love being part of the Britomart community because it's vibrant, fast-growing and has a big future."
"Our new Four Square brings the best of global central city style to downtown Auckland and we're excited to be a part of it."
Elliott Stables continues to evolve its offering with its recent openings Sims Kitchen, Culprit's Kyle Street and Jordan Macdonald's have launched LowBrow, and Paul Wong opened Jungle 8.
Looking ahead, there's plenty to look forward to.
IHG Hotels & Resorts will be opening two new hotels in the city centre in 2024. 51 Albert Street will also include a 225-room Indigo Hotel and a Club InterContinental Auckland will open at 1 Queen Street. This development by Precinct Properties will also have office, retail, and hospitality offerings.
And hot of the press, the basement space in Imperial Lane in Queen Street has just been leased by JLL to a new hospitality operator - watch this space!
---
Previous quarterly results are available here