StoreFront connects businesses within the High Street District with local artists. Each creative brings their eye-catching artwork into the public-facing windows of participating businesses. This programme is a partnership between Heart of the City and Auckland Council, with funding from Auckland Council and the city centre targeted rate.

Featuring springy wreathes, quirky portraits and more, check out some of this wonderful artwork below - it's hard to miss!
Feedback from Participants:
Judy Darragh for Mi Piaci
"The whole team and our staff love the setup [The StoreFront programme] is a great way to generate foot traffic along High Street." - Vili Tonu, Overland Footwear Group

"I love this Storefront project…and the customers like the surprise." - Judy Darragh, Artist (ONZM).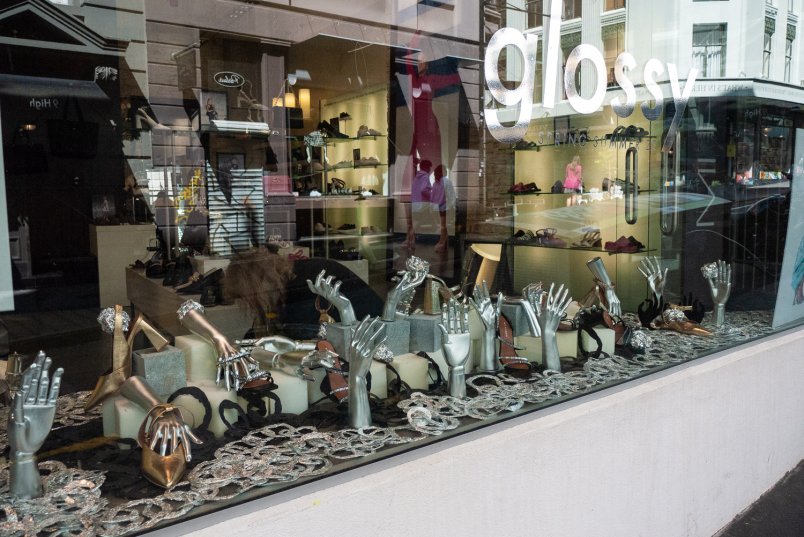 Aya Yamashita Francis for Shut The Front Door
"Anything that helps draw people into the city centre is good for us. I love the artwork, it's quirky and eye-catching – we thought it captured the aesthetic of the store." [the artworks of StoreFront] look great and they certainly add a positive vibe to the city."
- Glenda Donovan, Shut the Front Door
"I felt very privileged to work with such a popular store! I really like the energy that the Shut the Front Door brand has...I wanted the artwork to be somehow interactive and not just the art on the window."
- Aya Yamashita Francis, Artist