Our focus for the year 2022/2023 year is the recovery and reinvigoration of a world-class city centre that is vibrant, safe and inclusive through business support, city activation, events and destination marketing, and safety programmes. Outlined below are the key activities planned or underway in the city centre to support the city centre to be a great place to do business.
Support for businesses
Activate Tāmaki Makaurau helps Auckland businesses access health and wellbeing support and business community resources. They can be found here. Other business support information is available here.
City Activation:
Outdoor Dining Grants scheme
Supported 57 hospitality businesses to further enhance or create an outdoor space with a grant of up to $1500 (made possible with support from Auckland Council and the City Centre Targeted Rate). More feedback from businesses can be found
here
.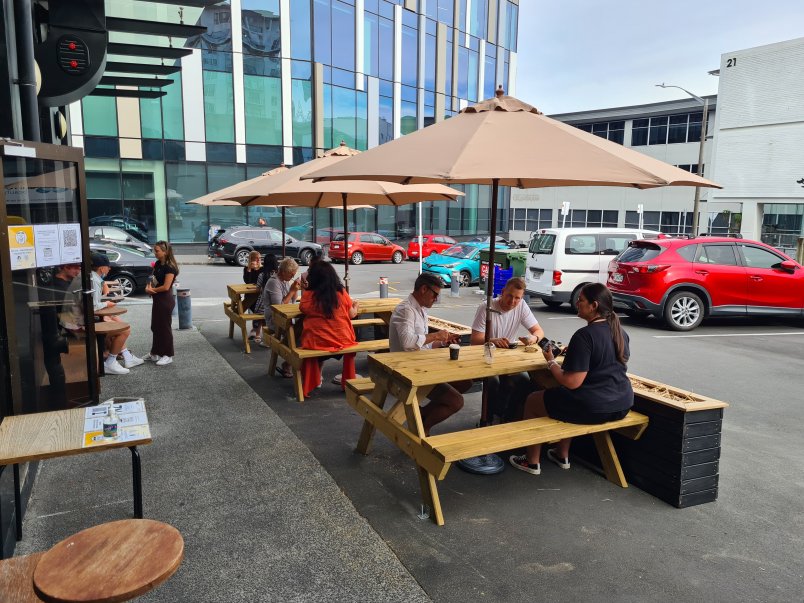 Supporting Empty Tenancies
Appealing and attractive properties are fundamental for a vibrant, successful retail environment. Our empty tenancy programme provides the opportunity for creative installations or alternative use for vacant spaces, bringing life and colour to the city centre street environment. If you're a property owner with a vacant retail tenancy with window frontage, please get in touch to discuss your options. Find out more
here
.
Events and Destination Marketing
We aim to support the city centre while encouraging visitation and spend for our businesses. Opportunities for businesses to take part are outlined below:
Art in the City 6 - 17 October
Art in the City takes place in the heart of Auckland city centre from October 7-16, with an unmissable line-up of exhibitions, installations, pop-ups and activations in public spaces, laneways, galleries and more. Read more
here
.
Christmas - December 2022
Last year, the city centre's Christmas Festival headliner was a Christmas Light Show in Te Komititanga, Santa's Mail Machine, spectacular public Christmas decorations and more. A full wrap-up of Christmas 2021 is available
here
. 2022 aims to be just as magical, with full details available to businesses soon.
Matariki Ki Te Manawa - July 2023
In 2022, Over 25 special events and activations took place over the Matariki period, which is an annual winter event that begins with the rising of a star cluster with the same name. The headline attraction was Pakiata Matariki – a large-scale projected light show that illuminated the Chief Post Office Building. Matariki Ki Te Manawa was presented by Auckland Council, Ngāti Whātua Ōrākei and us. Details about 2023 will be available in due course.
Find out what other events are on in the city centre with our events calendar here.
"Always On" Promotion
Our regular content across our digital channels – including Facebook, TikTok, Instagram and Twitter highlights the many reasons to visit the city centre.
Safety
We have a number of safety programmes in place to support the city centre and collaborate with key partners including NZ Police and Auckland Council. Outlined below is a summary of the key initiatives in place. More information is available here.

CityWatch: An on-street team working to make the city safe and inviting. Their presence, monitoring and communication is supported by the police and council when enforcement of the law or bylaws is required. The programme is delivered d by Auckland Council with co-funding from Heart of the City. More information is available here.

StoreWatch: An email communication network between city centre retailers and the NZ Police that aims to reduce and prevent theft by sharing critical information. More information is available here.

Temporary targeted security
We have put in place temporary targeted security to focus on hotspot areas in the city centre. More information is available here. If you are interested in talking more about any of the above, please contact us here.

If you are interested in talking more about any of the above, please contact us here.