New public art projects are enhancing the city centre
From pop-up installations and interactive art that teaches us about the world to heritage works that tell the story of our Maori and Pacific culture, the city centre's art contributes to its unique identity. We look at some of the recent art projects that have popped up and the impact of public art in the city centre.
Importantly, public art on city centre streets is not just the domain of the public sector. Art projects are increasingly being incorporated into private developments. A good example of this is the glass artworks by New Zealand artists Sara Hughes and Peata Larkin currently being installed across the four external walls of the New Zealand International Convention Centre (NZICC). The imagery uses 60 different colour tones and is inspired by Ms Hughes' upbringing in rural Northland near the Waipoua kauri forest. Once completed, these will be two of the largest pieces of public art ever created in New Zealand. Spanning a total of 5,760sqm, the glass panels will be a striking piece of local artwork for Aucklanders and visitors of the city alike to enjoy.
You can watch the artists and the city centre architects responsible for the building design talk about the relationship between art and architecture in this video by NZICC.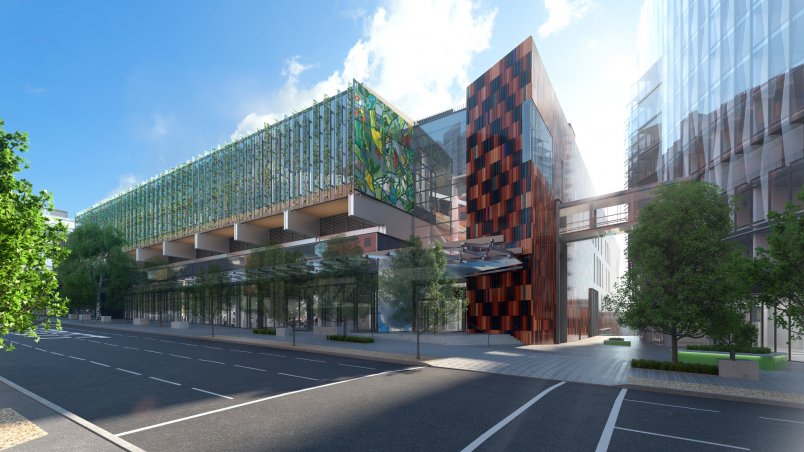 Public art not only engages people and helps to create a sense of place, it also physically improves the look and feel of public places. Adding colour and art to the city centre streets, squares and laneways inherently makes it a more attractive place to visit and spend time in, which is good for people and good for business.
While the fiscal value of art is hard to quantify, we do know that art brings people to the city centre. Auckland Art Gallery, located in the heart of the city centre's arts quarter, attracts around half a million visitors a year. Similarly, festivals and events based around art are another big drawcard - for example, the Auckland Arts Festival has had close to 200,000 attendees in recent years. And during Auckland ArtWeek, smaller galleries have reported having more visitors through the door than they normally would in a month. As a long-standing sponsor of both events, we recognise the value of art in the city centre and the importance of protecting and promoting it.
While much of the city centre's art is best enjoyed during the day, Heart of the City's sponsorship of ArtWeek includes running an annual Late Night Art event which brings thousands of art lovers out into the city centre's streets and galleries after hours for a night. It's all part of our work to grow the city centre's thriving night-time economy, which is already valued at about $450m a year and which has significant potential to grow further.
Suffice to say, there is plenty of exciting and eye-catching art in the city - and new pieces are popping up all the time. Below are some of the recent projects and public art installations currently on display in the city centre.
The Rainbow Machine at Silo Park (25 January - 31 March 2019)
Visit Silo Park and turn the machine's bright yellow module to face the sun and make rainbows, without needing a single raindrop. If the sun's not shining, you can still interact and play with the machine's robust mechanics.
Scientists from Callaghan Innovation brought their expertise to the design of the optical module from which rainbow spectra are formed, enabling the concept team of architects and artists Shahriar Asdollah-Zadeh, Patrick Loo and Sarosh Mulla to bring Rainbow Machine to life. Find out more here.
Wastescape at Silo 6 (9 - 24 March 2019)
Wastescape is an immersive installation by British artist Gayle Chong Kwan, brought to Silo Park as part of the Auckland Arts Festival. The installation explores New Zealand's relationship with food and dairy through pre-colonial agriculture, craft techniques and waste, and uses thousands of used plastic milk bottles and photography to create otherworldly landscapes. Find out more here.
Snickel Lane mural
This is another great example of public art being incorporated into a private development. Snickel Lane features a mural on its walls, updated each year by a graduating artist from Auckland University's Elam School of Fine Arts. This year's mural, unveiled in January, was created by artist Naawie Tutugoro.
Walks in the city - Te Paparahi Toi Māori
Auckland Council's Maori Design Specialist Olivia Haddon has just launched Te Paparahi Toi Māori - the first ever publication and collection of walks highlighting Māori art in the heart of the city.
On launching Te Paparahi Toi Māori Olivia commented: "One of the biggest contributors to Māori identity is not the buildings themselves but public art, or stand-alone art pieces, that are in our public spaces."
From taniwhas and Māori myths to iwi villages and battle sites; more than sixty pieces of public art, urban design and architecture reveal clues into the rich Māori history that lies beneath the modern façade of our city. Find out more here.