A new sustainable takeaway coffee option has arrived in the city centre
As advocates for a zero waste city centre, we gladly welcomed last week's Auckland launch of Again Again an eco-friendly Kiwi business aiming to eliminate the waste caused by single use coffee cups.
Unlike biodegradable single use cups - most of which are never recycled or composted - or personal reusable cups, which most people never remember to have with them, Again Again is a reusable cups-as-a-service system for convenient takeaway coffee, without the landfill.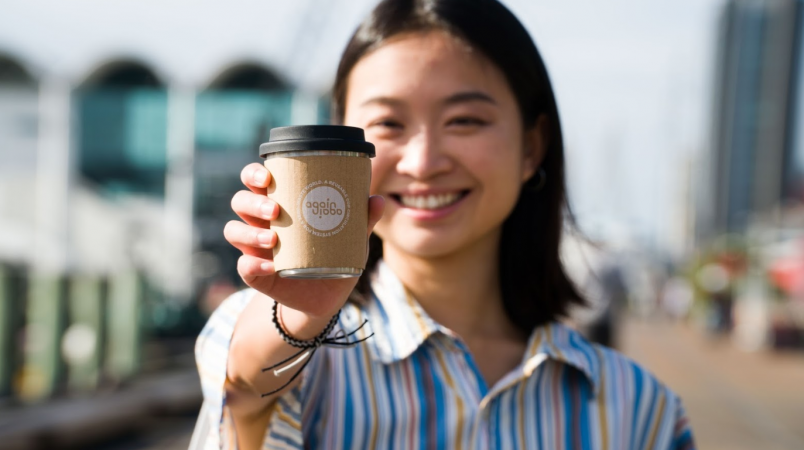 How does it work?
Again Again provides a fleet of reusable steel cups, silicone lids and cardboard heat sleeves available by deposit and return at participating cafes around Auckland.
Customers order their coffee as usual but can opt to pay a $3 deposit which lets them "check out" an Again Again cup. The deposit is fully refunded when they return the cup to any café in the Again Again network (or, alternatively, they can simply opt to use a new cup for their next coffee).
Cups can be returned to any cafe in the Again Again network - Again Again manages cup redistribution around its network of cafes.
Building a sustainable, zero waste city centre
In Aotearoa, we throw away 295 million disposable cups every single year. Global estimates sit at 88 billion. Each cup contains plastic that contributes to environmental degradation.
The Again Again service aims to show that the convenience of takeaway coffee does not have to be compromised in the name of sustainability and the Auckland launch follows a successful pilot programme in Wellington.
We firmly believe that the city centre, and the businesses here, should be leading the way when it comes to sustainability, waste management and minimisation - so it was great to see 18 city centre cafes are already offering Again Again's reusable cup service.
Here is the full list of cafes currently offering Again Again cups: