A Q&A with the business bringing the best of London, New York and Las Vegas hospitality to Commercial Bay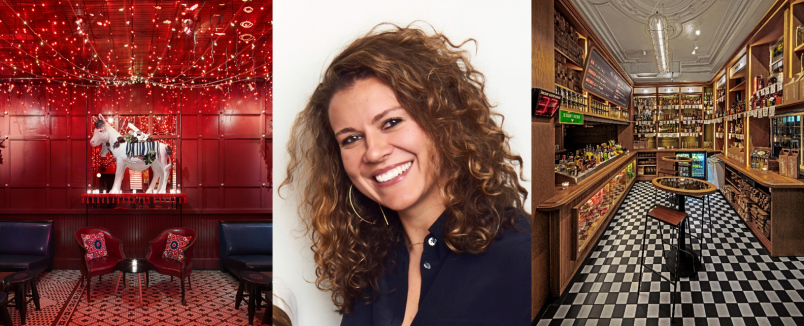 When Commercial Bay opens in September, it will form a new anchor for retail and hospitality at the juncture between the waterfront and Queen Street. It will also see some exciting international brands make their debut in New Zealand. We caught up with Marion Emmanuelle from AvroKO, the award-winning design and hospitality firm bringing bars Ghost Donkey (New York, Las Vegas) and GENUINE Liquorette (London), and NYC restaurant Saxon + Parole, to Commercial Bay this spring to find out what attracted them to Auckland's city centre.
What made you want to do business in Commercial Bay and in Auckland's city centre specifically? What are you most excited about?
Even though AvroKO was born in the States, so many of the team across our offices and venues are either Kiwis or have deep links to New Zealand. I've been coming to Auckland regularly for over fifteen years - this city really is a second home.
When we first came across the work that Precinct is doing at Commercial Bay nearly 3 years ago, we were very impressed: it's an incredible mixed-use development, that we believe will truly transform the city centre and offer Aucklanders a new, world-class precinct. Originally our sister group Brand Bureau was tasked with developing the strategy, concept and brand for Commercial Bay's food hall, Harbour Eats. But as we learnt more and more about the development and Auckland's city centre from a food and beverage point of view, we couldn't pass up on the opportunity to be a part of it.
The city centre's hospitality scene is booming, what's going to be your point of difference to ensure success?
We are really impressed by the hospitality scene in Auckland's city centre and can't wait to be a part of it, but we also believe there is an appetite from the New Zealand population to have access to international concepts that offer something new and a little different. We are bringing a few innovative programs and experiences that don't currently exist in the city centre - or in wider Auckland, but are still very approachable and intended to provide meaningful hospitality moments.
You are bringing three successful international hospitality brands to Auckland– why do you think they will work with an NZ audience, and will you be doing anything differently?
We've designed hospitality venues all over the world and though there are things we definitely localise, the tenets that we design around remain the same. Ghost Donkey, GENUINE Liquorette and Saxon + Parole will all be inspired by their sister sites, but there will definitely be some features tailored for Auckland - often driven by what is locally available or not. We are loving the kiwi bounty and our food and beverage teams are exploring ways to celebrate it through the menus, but we have also been presented with new challenges. For example, Ghost Donkey's menu calls for A LOT of limes, but they're pricier here than in the US. We did the numbers and learned it was best for us to buy our own lime trees - so that's what we're looking into!
We also spend time learning about the eating and drinking culture in the cities we go to (one of the best parts of the process!), so that we can adjust the hospitality experience to be in line with what the local audience is accustomed to.
What's the key to successful restaurant/hospitality design? How will we see this reflected in your brands at Commercial Bay?
All our concepts are designed by our parent company, AvroKO. They have earned a reputation as one of the most innovative design firms in the field, due in large part to the group's self-styled storytelling, integrated design process and focus on creating transformative experiences. So each of the concepts we are bringing to New Zealand has a strong concept narrative that drives every aspect of the space and experience: from the interiors to the music, food & beverage, uniforms and beyond.
How important will it be for AvroKO to find ways to connect with the wider city centre community?
Because we have worked with New Zealanders for so long, we already have the foundations of an incredible network in the country. We're really keen to build that out, especially in the city centre. Every time we are out here - which is often - we spend a lot of time meeting people within our community.
Are you working on any other projects in the city centre?
We feel like we've gotten to know Auckland's city centre quite well through the strategy, interiors and hospitality work we have done here over the past couple of years, so we're excited to continue to grow our presence here, and grow our participation in the local business community.
Currently, AvroKO is designing the interiors of the upcoming InterContinental hotel in Commercial Bay. And after working with the Precinct team to develop Harbour Eats - the food hall within Commercial Bay - we fell in love with the concept and decided to commit to a counter space there too! Stay tuned for more info on that one...
Find out more about the Commercial Bay development here.