Share your feedback on the proposed cycleway for Market Place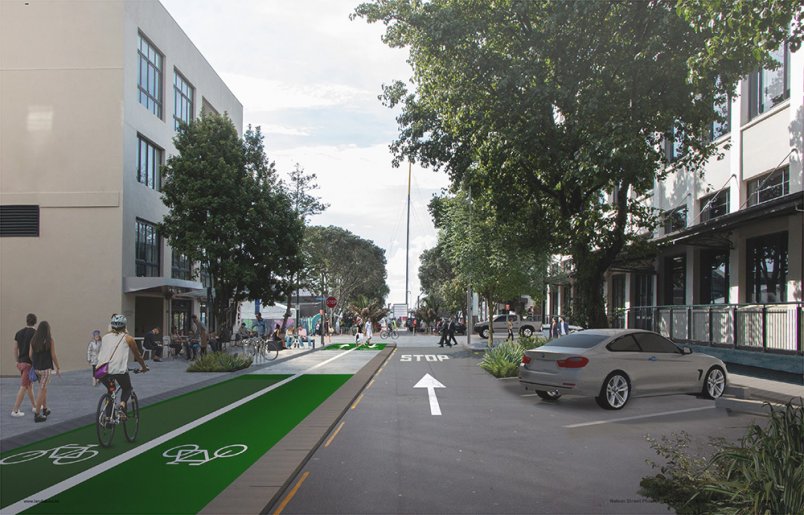 Auckland Transport (AT) wants your feedback on revised designs for Market Place. The proposal includes a two way cycling lane, and rearranging the current on street parking.
The cycleway aims to improve access for people on bikes in the area by connecting people on bikes with the Nelson Street cycleway and to the shared path along the viaduct.
This would also complete the city centre cycling loop which enables cycling around the city centre, separated from traffic.
The proposed works to create the cycleway include:
A two-way cycle path on one side of Market Place which will be raised and separated by a kerb
Widening the footpath by the new cycleway to 4.3m (from 3.5m)
Changing Market Place to be a one-way configuration for vehicles (northbound towards the Viaduct only)
Removing the car parks on one side of Market Place but replacing them on the other side by creating angled car parking
Adding new bike racks and seating areas
Adding a new pedestrian and bike crossing upon entry to Market Place (near its intersection with Pakenham Street East). This crossing will require the removal of two trees.
Adding a new raised intersection at Market Place/ Customs Street West to encourage safer vehicle speeds.
Removing a total of 5 car parks to enable the improvements. This includes 2 on Pakenham Street East, 2 on Market Place, and 1 on Customs Street West.
We encourage city centre businesses to share their views on this proposal as feedback helps ensure business needs are taken into consideration.
For this reason we will also be providing our feedback to AT - particularly in relation to timing, approach to construction and coordination with other works in the area. If any businesses in the area of the proposed project would like to share their views on this with us directly, please feel free to contact us at info@hotcity.co.nz
To see the designs and further detail on the proposed changes - and to have your say - visit the AT website here.