The St Patrick's Day Parade is returning to Queen Street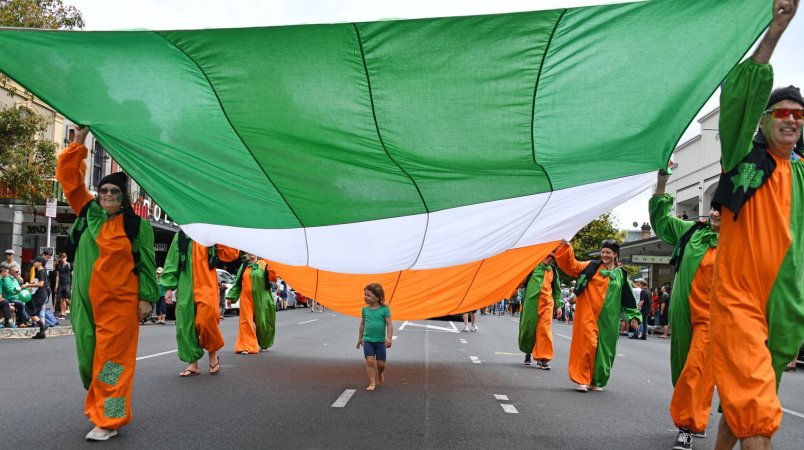 The popular St Patrick's Parade returns to Queen Street on Saturday 14 March 2020.
Kicking off at 11.45am on Fort Street (with floats and participants gathering from 8am), the parade will then turn onto Customs Street East and proceed along Queen Street before concluding on Wakefield Street from 12.45pm.
It will be followed by an Irish Music and Dance Festival near Aotea Square, with the aim of keeping the festivities going all day.
Road closures and traffic management
A traffic management plan has been developed and will be administered on the day by a professional traffic management company.
The following parking restrictions and road closures will be in place:
Fort Street/Gore Street/Commerce Street (8am - 1pm)
Queen Street between Wakefield Street and Mayoral Drive (9am - 5pm)
Customs Street East (11.30am - 12.15pm)
Queen Street will be closed as the Parade moves through, and will be re-opened as soon as it concludes.
There will be authorised parking on Airedale Street from 9am - 5pm.
For more information about road closures, traffic management and event handling, see this letter from the event organisers which has been sent to all businesses in the area.
For more information about the St Patrick's parade, see the St Patrick's Festival Auckland website.
The history of St Patrick's Festival in the city centre
The festival was started by a group of passionate Irishmen in 1995 in order to celebrate St Patrick's Day and New Zealand's rich Irish connections.
It began with a parade along Queen Street, and has evolved over the past two decades, now encompassing a broad range of cultural, sport and entertainment events.
While other cities around the world have since started holding their own parades, the Auckland St Patrick's Parade is currently the only one in the Southern Hemisphere.